Ellis L. Knox, Instructor #05020219
Elaine Knox, Chief Range Safety Officer
Classroom Course Agenda:
Module 1: Use of Deadly Force (1hr 45 min)
Module 2: Handgun Use and Safety (35 – 45 min)
Break for lunch. (30 - 40 min)
Shooting Test. (30 min - 1hr)
Module 3: Non-violent dispute resolution (45 min – 1 hr.)
Module 4: Safe Gun Storage (45 min)
Module 5: Things you should know and remember (15 min)
Then: Written Test. (10 to 15 min)
*All Times Approximate. *

 
What to expect on class day
Saturday class begins at 8:00 AM (sharp) and ends approximately 2:00 -2:30 PM.
Northeast Texas Community College
Criminal Justice Center Building
2886 FM 1735, Chapel Hill Rd.
Mt. Pleasant, TX 75455
Our Phone Number: (903) 573-4068
We will meet in the Criminal Justice Center (see map at bottom of page)
Bring guns and ammo with you in a range bag or tote, they will be secured in the shooting range

NO LIVE AMMO in the classroom
Leave all ammo in original box – no loaded magazines
No steel or aluminum ammo, brass only
Clean and oil your gun, especially new guns before you shoot them

Participants sign in
Have your valid TX Driver's License or TX ID ready
Pay your dues if not already paid online
What to Bring
Cap (optional but suggested) *
Hearing protection (plugs or over the ear muffs) *
Safety glasses (prescription glasses are acceptable) *
Pistol & at least 1 empty magazine, bring more if you have them*
50 rounds of ammo**
*If you do not have any these items, they will be provided for you (free of charge).
**Price of ammo is $25.00. (.22, .380, .38, or 9mm are usually available)
**PLEASE NOTE** Guns will be inspected for cleanliness and oil on class day. No overly dirty guns allowed. No brand-new guns without first oiling. This prevents most common jams and contributes to the safety of all class members. KSA can oil and/or clean your firearm for you – $15.00 for oiling or $25.00 for cleaning and oiling. Must have 72-hour notice prior to class day.
What to Wear – Dress for Safety
*Hot brass ejected from semi-autos can cause a second-degree burn. *
Shirt with ample coverage
Shorts to the knee or pants
Close-toed shoes
To ensure a satisfactory experience for everyone, please respect the following guidelines:
No clothing or jewelry displaying: drugs, obscenities, lewd or illegal behavior, sexual overtones etc. or any reference that is disruptive to others
Undergarments worn as outer garments are not permitted
Other State Requirements – What to Expect
Create a login and apply to the state of Texas - https://txapps.texas.gov/txapp/txdps/ltc/ The standard license fee is $40 (most common)
Once you have completed your application, upload required documentation to TX RSD - https://www.dps.texas.gov/rsd/contact/ltcatt.aspx
The LTC-100 you will receive upon successful completion of our course is a required document to uploa
The state requires .pdf documents – no .jpg file
A little tip: after a document is uploaded, you must also attach it. Uploading does not automatically attach the document, and it can be confusion
If you prefer snail mail - after your online application is completed, you will receive an email from the State of Texas with a large barcode. Print that email and mail with the signed LTC-100 we gave you in class to this address

Texas Department of Public Safety
Handgun Licensing Program, MSC 0245
P.O. Box 4087
Austin, TX 78773-0245
 
Lastly, schedule your fingerprints at this website (any previous fingerprinting is not valid for your TX LTC) - https://www.dps.texas.gov/administration/crime_records/pages/applicantfingerprintservices.htm

*** To get started, use Service Code: 119Q91 ***

The old Pilgrim's headquarters, now Region 8, is generally the easiest for most people in Pittsburg and the surrounding areas
GENERAL INFORMATION – FROM THE STATE OF TEXAS HANDOUT
An original (first-time) LTC applicant must complete four to six hours of classroom training, pass a written examination and pass a proficiency demonstration (shooting). All classroom and proficiency must be conducted by an LTC instructor certified by TX DPS. There are four (4) required topics:
 

Use of Force,
Non-Violent Dispute Resolution,
Handgun Use,
Safe and Proper Storage of Handguns and Ammunition.

You must also submit a completed application, pay the required fees and submit all of the required supplemental forms and materials.


 

The Handgun Law sets out the eligibility criteria that must be met. Applicants must be at least 21 years of age (unless active duty military) and must meet Federal qualifications to purchase a handgun.
 
A number of factors may make you ineligible to obtain a license, such as:
 

felony convictions and some misdemeanor convictions, including charges that resulted in probation or deferred adjudication;
pending criminal charges;
chemical or alcohol dependency;
certain types of psychological diagnoses;
Protective or restraining orders.
Defaults on state or city taxes, governmental fees, or child support.
Eligibility requirements can be found in GC §411.172.
You must also submit a completed application, pay the required fees and submit all of the required supplemental forms and materials.
Texas Handgun License
Proficiency Demonstration Course of Fire
The following course of fire is required for proficiency demonstration. To successfully qualify, shooters must complete this course with a minimum score of 70% (175 out of possible 250). If any malfunctions are encountered, the shooter will work through the problem and finish the course of fire. If rounds are held (not fired within the allotted time), the shots will be scored as misses. All courses of fire will be scored on a standard B-27 target. The B-27 target must be 24 inches by 45 inches and may be one of four colors; black, blue, red, or green. The target shall be scored utilizing the 5, 4, 3 scoring diagrams in the upper left-hand corner.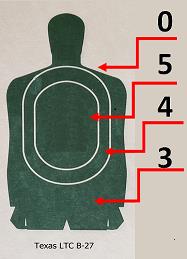 Stage 1: Twenty shots (20) will be fired from 3 yards.
Five (5) shots fired in a "One Shot Exercise" 2 seconds allowed for each shot.
Ten shots (10) fired in a "Two Shot Exercise" 3 seconds allowed for each two-shot sequence.
Five (5) shots fired in 10 seconds
Stage 2: Twenty shots (20) will be fired from 7 yards – fired 5 stages.
Five (5) shots will be fired in 10 seconds
Five (5) shots will be fired in 2 stages:
Two (2) shots will be fired in 4 seconds
Three (3) shots will be fired in 6 seconds
Five (5) shots fired in a "One Shot Exercise" 3 seconds allowed for each shot.
Five (5) shots fired in 15 seconds.
Stage 3: Ten shots (10) fired from 15 yards – fired in two 5-shot strings. Five (5) shots fired in two stages:
Two (2) shots fired in 6 seconds.
Three (3) shots fired in 9 seconds.
Five (5) shots fired in 15 seconds.
If You fail the shooting test you have up-to two more attempts. However, in some cases KSA will require a refresher session with a Range Safety Officer to get you on target. There is an additional $15.00 fee. After the session, you will be able to take the test again, possibly on the same day as the class. If you fail a second time you will be required to take a 2-hour NRA Basic Pistol for a fee of $40.00. This short course will get you on target.
Directions to NTCC Campus and see map for location of the Justice Center
Northeast Texas Community College (NTCC) is located just outside of Mount Pleasant, Texas (in the Northeastern part of Texas). Between Dallas and Texarkana on Interstate-30, Mount Pleasant is the largest community in the NTCC service area. Mount Pleasant is approximately 110 miles East of Dallas; about 70 miles Northeast of Tyler; about 50 miles Northeast of Longview; and about 60 miles West of Texarkana. The college is about 6 miles southeast of Mount Pleasant. Our physical address is FM 1735 (Chapel Hill Road) - Mount Pleasant, Texas 75455. (Please note: because NTCC is located in a rural area of Northeast Texas, Internet mapping services do not accurately depict our location.)
The Criminal Justice Center (CJC) on the campus is located in the RED Circle. Follow red arrows to parking in front of building. There is parking in front of the building, park and come in the door. There will be a table set up to check you in. Have your current Drivers' License or ID ready. Make sure your DL or ID is up-to-date.