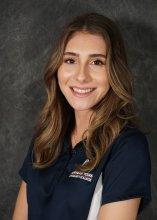 Emily
Ellis
Academic Advisor
Department: Advising
Email: eellis@ntcc.edu
Office: SSC

Advisor for the following disciplines:
Art, Communications, Theater, English, Government, History, Music, Human Performance, Physical Education, Psychology, Social Work, Sociology, Spanish, and Education.
Emily Ellis is a 2018 graduate from the University of Arkansas where she received a degree in Kinesiology. She has since moved back to Mount Pleasant to serve the community college as an Academic Advisor.
While attending Chapel Hill High School, Emily participated in the dual credit program at NTCC where she completed most of her core curriculum. NTCC was Emily's first college experience, in which helped her acclimate as she went on to a University. After college Emily felt compelled to join the advising team to give back the guidance and support she had once received. Now it is her mission to help every student reach their goals at Northeast Texas Community College.
When Emily is not working she enjoys outdoor activities, traveling and spending time with family and her friends.