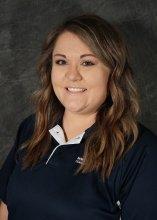 Claire
Reyes
Academic Advisor
Department: Advising
Phone: 903-434-8218
Email: creyes@ntcc.edu
Office: SSC

Advisor for the following disciplines:
Biology, Biomedical Science, Chemistry, Engineering, Mathematics, Physics, Computer and Information Services, and General Studies.
Claire is an Academic Advisor in the Student Services Department. She was born and raised in Mount Pleasant, Texas. She attended Northeast Texas Community College following her graduation from Chapel Hill High School in 2014. She earned an Associate's of Science Degree in the Spring of 2016. She then transferred to Texas A&M University – Texarkana, where she pursued a Bachelor's of Science in Mathematics Degree in the Fall of 2018. After graduating from Texas A&M University – Texarkana, she started working at North East Texas Credit Union until she changed career paths and started working at Northeast Texas Community College. She is a lover of anything involving mathematics and helping people succeed. She has high hopes of continuing her education by pursuing a Master's Degree.
Claire and her husband, Jordan, currently reside in Omaha, Texas. They are both actively involved with the Paul Pewitt FFA Alumni. She enjoys spending time with her family and friends. She loves being outdoors, traveling on adventures, and trying new things. She is a seeker of happiness and finding the joy in the little things.