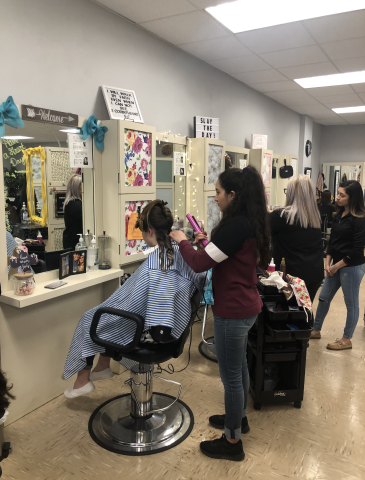 March 1, 2019
The Northeast Texas Community College Cosmetology Department dual credit class from Chapel Hill welcomed some special clients this week as young ladies from Chapel Hill Middle School visited campus to learn about cosmetology and to receive makeovers from their older Chapel Hill classmates. It was a fun learning experience for the younger girls and gave the dual credit students valuable practice working with clients.
The CHS Dual credit students are on campus each afternoon and they provide client services on Thursdays. Their instructor, Necah Posey, invites members of the campus community to make an appointment for a hairstyle or manicure to help give the students more practice.
The regular NTCC cosmetology students also accept clients on Wednesday and Thursday mornings. Please call 903-434-8208 or dlovelady@ntcc.edu to schedule appointments.