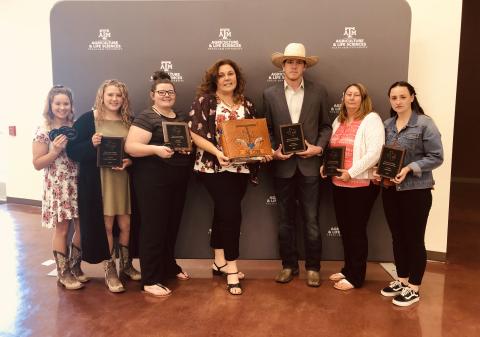 April 12, 2019
Students and faculty from the Northeast Texas Community College Agriculture Department recently attended the Texas Junior College Agriculture Association (TJCAA) conference at Texas A&M University College Station. In addition to attending a variety of sessions on trending agriculture topics, students also competed in competitions against other community college students from across the state.
"I'm so proud of our students. They continue to amaze me and always rise to a challenge when they are presented with one," René McCracken, NTCC Ag Director, said.
NTCC awards included:
Most Outstanding Chapter: Second Place
Sweepstakes: Third Place
1st place Scrapbook: Team: Breanna White(Ore city), Katie Emmett (Bohermeen, Ireland), Jan Shirley (DeKalb), Madison Blood (Big Sandy)and Maddison Storck (Mount Vernon)
Quiz: Madison Blood (Big Sandy) – Fourth in Equine, Third in Horticulture, Third in Wildlife
Job Interview: Second Place, Maddison Storck
Public Relations: Team: Jan Shirley, Katie Emmett and Casey Oney (Harleton), Second Place
In addition to representing NTCC well in competition, Shirley also represented NTCC in her state office role of reporter over the ceremonies. To learn more about NTCC Agriculture, contact McCracken at 903-434-8167 or rmccracken@ntcc.eduor visit www.ntcc.edu/ag.