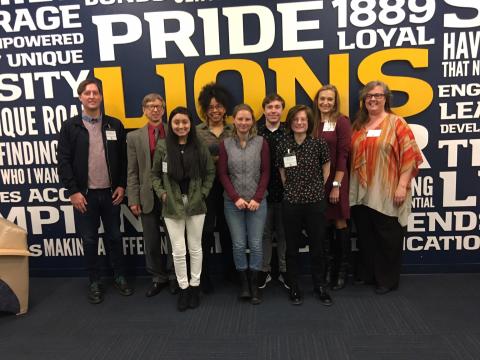 March 1, 2019
By: Dr. Melissa Fulgham
Nine faculty and students from NTCC attended the World History Association of Texas (WHAT) meeting held on the campus of Texas A&M University - Commerce February 22-23. The WHAT attendees and participants included graduate and undergraduate students, as well as college professors and independent historians, from throughout Texas.
Seven students presented papers:
How War Censorship and Abridging the Civil Rights of the Press Helped Lead to Pandemic in 1918 Jazmin Garcia,
Chemical Weapons and the Power of Panic: A Useful Tool Both on the Battlefield and Off Jordan Whelchel,
Making Strides: Women and Long-Distance Running Jessica Smith,
Saving the Spirit of the West, Lilly Haack,
Gender Identity in Music, Rhylie Anderson,
How Music Played a Role in the Liberation of African-Americans Courtney Baldwin,
Two faculty members also participated:
Melissa Fulgham presented a paper ;entitled

Respectfully Refusing to Obey: How the Conscientious Objectors of World War I Unintentionally Helped Spark Global Civil Rights Movements
Jeremy Holland chaired a panel entitled:

Labelling, Historical Narratives, and Identity Creation
Student papers had been written in the fall 2018 semester in a team taught course which combines Music Appreciation (taught by Andrew Daniel) and World History (taught by Melissa Fulgham).