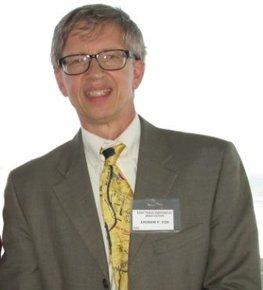 Dr. Andrew
Yox
Professor of History/ Director of Honors
Department: History
Phone: 903-434-8229
Email: ayox@ntcc.edu
Office: H-115

Credentials: B.A., Valparaiso University;
M.A., Ph.D., University of Chicago
Dr. Andrew Yox has taught American and Texas history at NTCC since 1994, and has been the college's first and only Honors Director since 2007. Though he may come to class dressed as "Father Nature" or "Ben Franklin," and specializes in dramatic lectures, he has spent more and more time in recent years, mentoring student research. His students have as of 2019 won over thirty regional awards for research, and have published over 20 essays. As honors director, and leader of the NTCC's Webb Chapter in Texas history, Yox has also provided his students with the wherewithal to create eight feature-length films on Texas history themes in the last eight years. One can view the films and many other examples of student success on the NTCC honors website at www.ntcc.edu/honors.
For those not in honors, expect a good amount of help, and an effort to make your research paper into a work of expertise. In 2016, Yox initiated the Bonnie Spencer Contest for student essays in non-honors seminars. (Bonnie Spencer was noted as the first student in NTCC history to begin a student history organization, and she subsequently became the first NTCC alumnus to help launch the Honors Northeast film series). Help with your research not only satisfies the first state objective in history to form a creative argument, but most attunes the student to needs of the information age. More and more, scholarship is surpassing mere erudition as an important résumé skill, and at NTCC there are several opportunities to receive important accolades for developing this talent. Eight of Yox's students, for example, have been able to leverage their work in research for exclusive $120,000-full-ride transfer Jack Kent Cooke Awards. Many more have optimized their attainments in research and film-work for other important national and regional awards such as the Guistwhite, Leaders of Promise, the Coca Cola Awards, the Hites Awards, and Pearson Awards.
Dr. Yox was the winner in 2016 of the $5,000 Mary Jon and J.P. Bryant Leadership in Education Award, the highest cash award of the Texas State Historical Association. He also received the Deboe Award in 2012 for his leadership of the Walter Prescott Webb Society, and in 2003 was the winner of the Webb Smith Essay Competition for his article comparing German and German-American poetry of the nineteenth century. He was President of Great Plains Honors Council, 2012-2013.