Event Details
The free premiere of Pressed but not Crushed: the UT Saga of Barbara Conrad will occur at the Whatley Center for the Performing Arts at NTCC Friday, February 8th, 2019 at 7 pm.
 
Mary Carter Lloyd of Pittsburg will star as Barbara Conrad.   
Pressed but Not Crushed
Honors Northeast to Feature the Story of a Most Notable Freshman Year: Barbara Conrad at the University of Texas 1956-57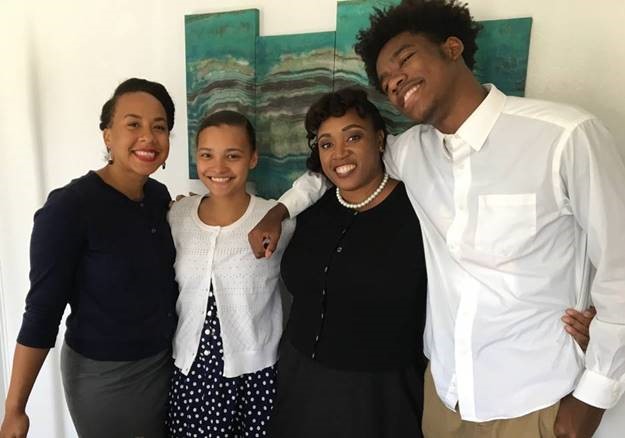 Actors Playing the Smith Family of Camp County, Left to Right: Courtney Baldwin as Jerrie Lee Smith, Alexis Porter as Connie Smith, Mary Carter Lloyd as Barbara Conrad, and Tyrese Rhymes as Conrad Smith
 
            Just an ordinary freshman year.  In 1956-1957.  Barbara Conrad from Northeast Texas becomes part of the first cohort of African-American undergraduates at the University of Texas.  A mellifluous soprano, she wins the star role in the spring opera as Dido.
          And then, our Northeast Texas State Representative, Joe Chapman, from Sulphur Springs, finds out that she has been cast to sing love duets with a white male, playing Aeneas.
 
          To find out what happened next in this previously un-filmed true story of our state, you are welcome to attend the free premiere of Pressed but not Crushed: the UT Saga of Barbara Conrad. Mary Carter Lloyd of Pittsburg will star as Barbara Conrad.   The premiere will occur on Friday, 8 February, at 7PM in the auditorium of the Whatley Center for the Performing Arts at NTCC.  Free refreshments and a discussion after the film, led by the actors and scholars of Honors Northeast who appear in the film, will bring the evening to a conclusion around 8:30 PM
 
This will be the seventh year in a row that Honors Northeast and NTCC's Webb Society will present its own feature-length film on a regional legend.  Past films have included the stories of Mary Kay, the Texas Cherokee, Ma and Pa Ferguson, Harriet Potter Ames, Wright Patman, and Morris Sheppard.  This series has received a great stimulus over the years from the contributions of Jerald and Mary Lou Mowery, and other Friends of Honors Northeast.  Each year the scholars of Honors Northeast have researched the story, produced a script, and overcome technical challenges involved in a one-hour film production.
 
This year's film was produced by Miguel Paco, a Presidential Scholar of Honors Northeast, majoring in Physics, from Mount Pleasant.  Paco was also the 2018 Cypress Bank Scholar, and for the purposes of the film, he received a MacBook Pro with 250 GB of RAM from the Mount Pleasant branch of this bank.  Jordan Whelchel, a sophomore, the college's third Texas Heritage National Bank Scholar, served as the film's director.  Jacob Lambie, a freshman from Scroggins, served as the Unit Production Director, and Film Scholar.
 
Two sophomore Presidential Scholars led the cinematography, Matthew Chambers, of Mount Pleasant, and Rhylie Anderson, of Winnsboro. Karla Fuentes of Winnsboro served as Director of Audiography, upgrading the system for the first time with the use of a recorder. Hannah Dickson of Pittsburg served as Director of Costumes, Peyton McClendon of Mount Pleasant as Makeup Director, and Karla Fuentes as Director of Props.
 
The cast of this year's film also includes: Courtney Baldwin from Mount Vernon as Jerrie Lee Smith; Alexis Porter from Daingerfield as Connie Smith; Tyrese Rhymes from Pittsburg as Conrad Smith; Verania Leyva-Garcia from Mount Pleasant as Cindy Chavez, Conrad's roommate; Jacob Lambie as UT President Logan Wilson; Karla Fuentes as Conrad's teacher, Edra Gustafson; Hannah Dickson as Joann Thompson, President of the University Religious Council; Mercedes Collins of Daingerfield as Carol Cold, and Mr. H.E. Howard; Peyton McClendon as the girl who was co-casted for the role of Dido, Martha Ann Kelly; Rhylie Anderson as Student Council President, Maurie Suttle; Matthew Chambers as Dean Arno Nowotny; Jordan Whelchel as John Silber; Daniel Landaverde of Mount Pleasant as Dean H.Y. McCown; Serenity Mitchell as Ticket Taker; and Dr. Andrew Yox as Regents Chair, Tom Sealy, and Northeast Texas Representative, Joe Chapman.
 
"There are two fascinating aspects of the research behind this story" notes Honors Director, Dr. Andrew Yox, "that this film will depict.  First we will get to know a dazzling international opera star from our region as played by Mary Lloyd whose civil rights narrative was distinctive.  Secondly, the film will allow us to peer inside the administration of the University of Texas.  Using documents at the Dolph Briscoe last summer, we will see a phenomenon, not unknown in our own time, of leaders who disclaim racist intent still acting in a discriminatory manner."
The four NTCC scholars who began the scholarly work on the field last May were Mercedes Collins, Jacob Lambie, Peyton McClendon, and Verania Leyva-Garcia.  
Contact Person
Rico Willis