Event Details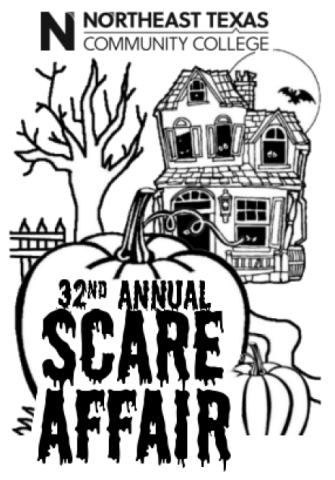 It's time to put on your best Halloween costume, dust off your trick-or-treat basket and head out to Northeast Texas Community College for the 32nd annual Scare Affair.
The event is from 6-9 p.m. on Saturday, Oct. 19th on the plaza of the main NTCC campus (located on FM 1735 near Chapel Hill ISD). There will be free candy for all trick-or-treaters, low-cost games for all ages, a costume contest with cash prizes and much more! A haunted house will be open until 10:30 p.m.
"Scare Affair is NTCC's biggest community event of the year. We hope everyone will come out and join us for an evening of safe fun," Rico Willis, NTCC Director of Student Activities and Multicultural Affairs, said.
In addition to past favorites like the cakewalk and a hayride, Scare Affair will also feature a giant 2 lane slide, rock wall, obstacle course, tons of games and great food.
Registration for the costume contest will be, come and go from 6:30-7:30 p.m. in the Student Union Building (SUB). There will be two categories – one for adults and one for kids ages 10 and under. The top five finalists will be posted in the SUB at 8 p.m. The winners will be announced at 8:30 p.m. Prizes are $100 for first place and $50 for second place in both age groups.
"Judges will be looking for originality, appearance, and overall creativity. There have been some great costumes in the past and I know we will see all sorts of fun ideas this year," Willis said.
For more information about scare affair, contact Willis at 903-434-8265 or rwillis@ntcc.edu.
Contact Person
Rico Willis