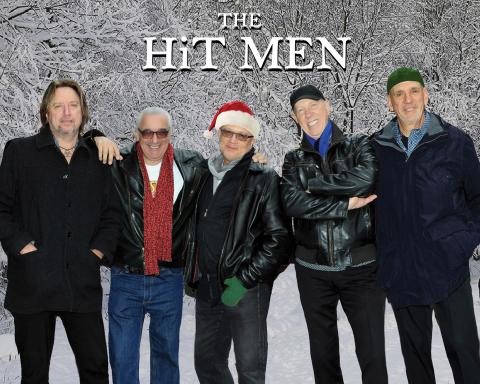 November 22, 2019
What if some of the greatest musicians who performed on some of the biggest rock 'n' roll records ever cut decided to get together to create a band of their own? What if the guys in that band included a former Music Director of Frankie Valli & The Four Seasons? What if the guitar player who had been Carly Simon's music director for 21 years was onboard too? And what if the rest of the group had recorded or performed with such music industry luminaries as Elton John, Carole King, Sting, Three Dog Night, Jim Croce, Blood, Sweat & Tears, Cheap Trick and Alan Parsons amongst others? And What if they decided to celebrate the holiday season with a concert that combines your favorite Rock and Holiday tunes? Well, that really happened and it's coming to your neck of the woods!

The Hit Men will perform at the Whatley Center for the Performing Arts on the Northeast Texas Community College Campus on Tuesday, Dec. 10 at 7:30 p.m. They will bring their red-hot holiday show, Rock 'n Roll + Christmas Classics to the Whatley stage just in time to get your ready for the holiday season!

"These guys are full of energy and talent and their Christmas show is sure to be a great time," Carolyn Franks, Director of the Whatley Center, said. "They were tapped to work with some of the best acts in history for a reason and when you get them together it makes for a very high-quality, entertaining show."

Their hit-packed, fun-filled celebration includes number one hits by Frankie Valli, Tommy James, Jim Croce, Carly Simon, Three Dog Night, Journey, Carole King and Cat Stevens sprinkled with holiday tunes performed in Hit Men classic rock style – including "Santa Claus Is Coming to Town," "Jingle Bell Rock," "Happy Christmas (War Is Over)," "Christmas Baby Please Come Home" and an explosive big-band swing arrangement of "Jingle Bells."

The Hit Men are made up of keyboardist/vocalist/founder Lee Shapiro, lead guitarist/vocalist Jimmy Ryan, bassist/vocalist Jeff Ganz, keyboardist/percussionist/vocalist Russ Velazquez and drummer/vocalist Steve Murphy.

"We perform these classic holiday songs in the fashion of the people we toured with, recorded with...or were ourselves," says Hit Men founder Lee Shapiro, with a smile. "We made sure to choose songs that were not just fluff," Shapiro adds. "And because we've gotten to know our audience well, we know what kind of music best strikes a chord with them. So Rock 'n Roll + Christmas Classics is for them. We want them to enjoy it all -- and know that it comes from us."

The Whatley Center performance is sponsored by Cypress Bank. Tickets are $30 for adults and $30 and $10 for students. They may be purchased instantly online at www.whatleycenter.com or by calling the Whatley Center Box Office at 903-434-8181.