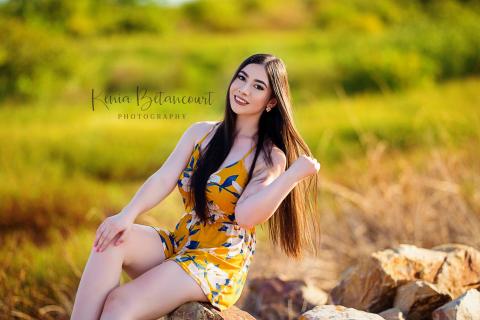 June 27, 2019
By: Dr. Andrew Yox, Honors Director
Jacob Lambie, the Director of the upcoming Honors Northeast film, announced last Thursday that Maritza Quinones of Mount Pleasant will play the star role of Adina de Zavala, a Texas writer and preservationist. Quinones, a recent graduate of Mount Pleasant, was one of fifteen area freshmen selected by the Honors Committee of Northeast Texas Community College this past May to enter the NTCC honors program.
The film is about Zavala's role in the making of a patriotic supersite. In 1908, across the United States, it was called the "second siege of the Alamo." De Zavala locked herself in what was at the time was a rat-infested warehouse about to meet the wrecking ball, to preserve the larger Alamo complex for posterity.
This year, a special gift from Glenda Brogoitti of Mount Pleasant has enabled the film's lead actress to start with a $200 stipend. Quinones, a former Mount Pleasant Tiger Doll, will start the summer attempting to insure that her set of special outfits and makeup for multiple scenes will line up. Professor Martin Holden has also released for use from Theatre Northeast a few period outfits. This year, as with previous years, the film effort has been liberally endowed with gifts from Jerald and Mary Lou Mowery, of Scroggins. Kenny Goodson, the former Director of Computer Services at NTCC, and also a former area band director, has agreed to work on developing a musical backdrop for the production.
The Director, Jacob Lambie will be a sophomore Presidential Scholar in the upcoming year. He is also a District III Vice President for Phi Theta Kappa. He served as Unit Production Director of last year's Caldwell-Prize-winning film, doing much of the University of Texas research that undergirded the Barbara Conrad script, and sequencing the scenes during a week a filming last August.
Quinones, who won an academic blanket in communications, and belonged to the National Honor Society, will be majoring in nursing. She was part of a team of five NTCC honors researchers who pursued the story of de Zavala at the Dolph Briscoe Center in Austin this last May. She is the daughter of Lorena and Juan Quinones of Mount Pleasant.
Dr. Andrew Yox, Honors Director, notes: "we are excited again this summer by the spirit exhibited by community donors, and by students willing to engage in a project like this as a public service. We are patriotically thankful as well that we can celebrate shared freedoms, and honor a story that brings the ethnic traditions of Texas together."