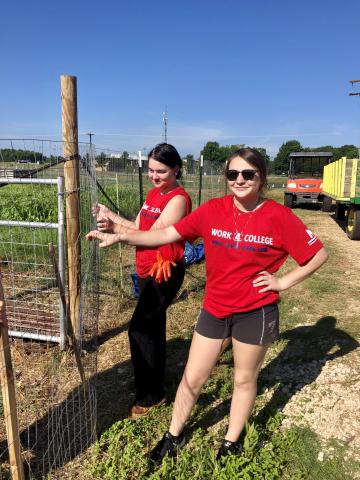 June 27, 2019
The Northeast Texas Community College Board of Trustees met for its regular June meeting on Tuesday, June 25. Dr. Ron Clinton, NTCC President, reported that the first summer session is off to a great start. Between the Work4College Program (77 students), the Summer Success Program (110 students) and the Upward Bound Program (53 students), there is plenty of activity on campus.
The Work4College Program allows high school and college students to work on the campus during the summer to help pay for their college tuition in advance. This is the sixth summer NTCC has had this program and it continues to grow each year.
"If you are on our campus during the morning you will see our Work4College students out working. There are about 30 working on the college farm and the rest are dispersed throughout campus. These are not easy jobs they are doing," Dr. Jonathan McCullough, NTCC Executive Vice president for Advancement, said.
The Summer Success Program is a high school transition program organized by NTCC Student Success Coaches. This allows recent high school graduates who enroll in summer classes to live on campus and participate in a variety of enrichment activities that will help prepare them for life as a college student.
Upward Bound is a national grant-funded program that serves at-risk high school students to help prepare them for college. In addition to providing support services in local schools, Upward Bound offers students the opportunity to take college classes and live on the NTCC campus during the summers of their junior and senior years of high school.
"Between all of these programs, we will have more than 200 students staying on our campus at various times this summer. It is an excellent way for them to get a taste for college life and prepare for the full academic year ahead," Dr. Josh Stewart, NTCC Vice President for Student and Outreach Services, said.
Stewart gave a summer enrollment report at the meeting. Overall, the student head count is up slightly for the summer at about one percent for summer I and 3.2% for summer II. Semester credit hours and contact hours are up by as much as about 5%.
"We have a diverse mix of students on our campus this summer and we are quite pleased with enrollment at this point. We hope it will continue to rise some as we move into the second summer session," Stewart said.
In personnel action, the board voted to hire three new employees: Shantel Sokol, MLT Faculty; Zachary Strawbridge, Shelby Automotive Faculty; and Robert Suarez, Network Technician. The meeting was followed by a board budget workshop, at which no action was taken.