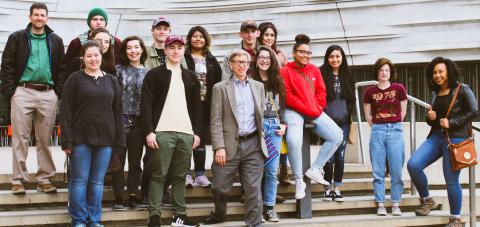 February 15, 2019
The application deadline for an optimal scholarship of Honors Northeast for the 2019-2020 school year is 1 March. A student may apply directly through the application at www.ntcc.edu/honors by submitting the application distributed by counselors at local high schools to Andrew Yox, PO Box 1307, NTCC, Mount Pleasant 75456, or by contacting the Honors Director, Dr. Andrew Yox (903-434-8229), mailto:ayox@ntcc.edu, for more information and materials.
Since 2010, the scholars of Honors Northeast have won forty-three national awards, including nine exclusive Jack-Kent-Cooke-foundation, full-ride transfers. Honors Northeast scholarships have helped make the costs of matriculation at NTCC negligible, helping students to focus on academic and scholarly success.
Top-ten-percent high school seniors, and 'A' students still lacking an extensive curricular buildup at NTCC are especially encouraged to apply. The Honors Committee of Northeast Texas Community College determines the scholarship levels of the applicants, and who is admitted.
A remarkable fact about the sophomores in Honors Northeast, for the second year running, is that every one of them has been recognized at the state and or national levels by award, conference or scholarship committees. Honors has averaged nine trips per year, all of them free for participating students, and has regularly competed successfully with university honors programs, at both the regional and national levels. The program has a unique culture of accolades and scholarship. For more details, contact Dr. Andrew Yox or view the program website at www.ntcc.edu/honors.