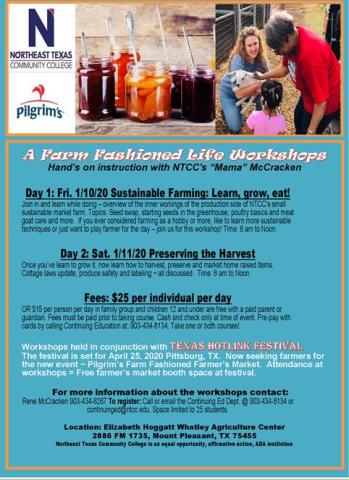 January 10, 2020
Have you ever wondered what it would be like to be a farmer? Perhaps you have even considered growing your own groceries or supplementing your income by selling farm raised goods. Where would you begin to take on a project like that? One of the best ways to determine if farming and gardening might be right for you is to "try on the boots"!
During the month of January, I will holding two farm fashioned workshops through our continuing education department on the NTCC Farm. You will have an opportunity to see and experience the inner workings of a small sustainable farm on the first day, Friday, January 10th. The second day will feature how to harvest, preserve and market what you produce on the farm, Saturday, January 11th. Each day is designed with the novice and entire family in mind.
You can take one or both classes and discounts are available for families. In fact, we even have a sponsor if you are considering taking the courses but funds are tight during this time of year. Seating is limited and students are taken on a first come first serve basis. Fees are $25 per person per course and you may take one or both of the courses. The workshops will take place at the Elizabeth Hoggatt Whatley Agriculture Complex and Sustainable Farm at 2886 FM 1735 Mount Pleasant, TX. Courses will begin at 8 am and end at noon each day.
Attached is a flier with more details of the workshops. For more information or to register contact Rene' McCracken at 903-434-8267 or rmccracken@ntcc.edu.
Look forward to working with you!
Rene' McCracken
Director of Agriculture
Northeast Texas Community College