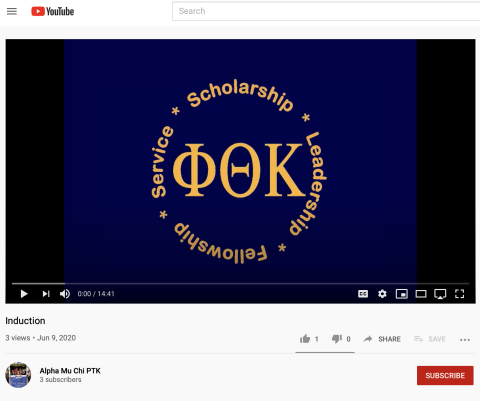 June 12, 2020
Alpha Mu Chi, Northeast Texas Community College's chapter of Phi Theta Kappa, recently held it's first-ever virtual induction ceremony since they were unable to hold their regular spring induction due to COVID-19. Below is a link to the video and a list of all students who were inducted into the selective honor society. Members who participated in the virtual ceremony are bolded.
Click here to view the Induction Ceremony
Founded over 100 years ago, Phi Theta Kappa is the oldest, largest, and most prestigious honor society for two year colleges. PTK has four Hallmarks: Leadership (give opportunities for leadership experience and character development); Scholarship (recognize those who excel academically and strive to reach a higher level of learning); Fellowship (gather a community of like-minded individuals who share ideas and ideas); and Service (emphasize service to others, both on college campuses and in their communities).
For more information on Phi Theta Kappa check out www.ptk.org or contact lead advisor Dr. Melissa Fulgham at mfulgham@ntcc.edu. Alpha Mu Chi is NTCC's chapter of Phi Theta Kappa and more information about chapter activities can be found at https://www.facebook.com/alphamuchi.
Sherena Allen, Frankston

Jennika Appelberg, Vantaa

Hannah Barnes, Marietta

Shannon Bigelow, Daingerfield

Lynnette Bonner, Ore City

Hannah Brantley, Sulphur Springs

Madison Brown, Gilmer

Haley Bucsanyi, Whiting, IN

Trinity Campbell, Pittsburg

Jesse Clubb Mount, Pleasant

Katelyn Cox, Mount Vernon

Sharla Crouch, Gilmer

Alicia Duck, Mount Pleasant

Carolynne Fielder, Pittsburg

Jada Fisher, Gilmer

Malory Fouche, Daingerfield

Idalou Fry, Sulphur Springs

Virginia Fuentes, Mount Pleasant

Lindsey Garcia, Mount Pleasant

Britany Garrett, Mount Pleasant

Omar Garza, Pittsburg

Daniel Harville, Rodessa

Jansen Laney, Daingerfield

Samantha Lara, Houston

Elijah Lindsey, Gilmer

Elisabeth Lively, Mount Pleasant

Raven McCollum, Mount Pleasant

Hailey ONeal, Pipe Creek

Savannah Panther, Clarksville

Priyesh Patel, Pittsburg

Maria Price, Omaha
Maxime Risner, Scroggins

Carlos Rosales, Mission

Trevor Ruelas, Scroggins

Yessenia Serna, Mount Pleasant

Cory Smith, Mount Pleasant

Dylon Smith, Gilmer

Lauren Tenan, Mount Vernon

Jaidyn Thompson, Daingerfield

Nicholas Torres, Mount Pleasant

Debbie Ugalde, Mount Pleasant

Kyleigh Wilson, Hughes Springs

Kenley Windle, Mount Pleasant

Litzy Yanez, MT Pleasant