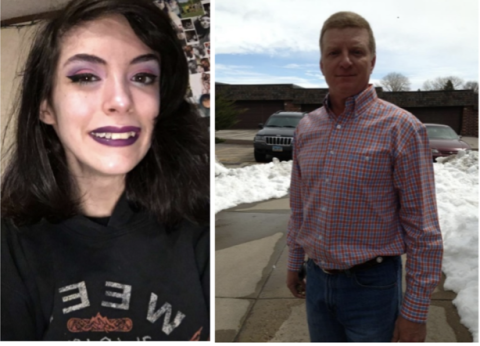 May 15, 2020
James L. Buckley of Winnsboro, Cory Lamond Smith, Jr. (not pictured) of Mount Pleasant, and Stormy Inez Taylor of Avery were named as the 2019-2020 Outstanding Students in Philosophy.
Nominating professor Dr. Matthew Lampert had this to say of the three individuals selected: "All three of these students exemplify what I look for in a good philosophy student, but also live up to the hope we have in teaching philosophy to all undergraduates: They all really go the extra mile to engage with and understand the texts we're reading, and all of them are always interested in the question of how these texts and ideas apply to our lives outside the philosophy classroom. I have had extensive conversations with each of them this year, in each case discussing questions they've raised about carrying the contents of the course beyond its classroom application. Finally, I have seen each of them grapple with ideas they find challenging and uncomfortable--these are students who don't shy away from scary ideas and difficult questions."
When learning of his selection, James Buckley had this to say: "Thank you for the nomination. As a 54 year old freshman I have a little more life experience than my classmates. My oldest daughter who has her masters in finance inspired me to go to college. There are 3 jbuckley at NTCC, my wife, my middle daughter, and myself. This experience has sparked interests that are now driving me to change my major and become a teacher."
When learning of her selection, Stormy Taylor had this to say: "I am 19 years old, and I am from Clarksville, Texas. I am on my second semester here at NTCC with their wonderful funeral service program, and I am currently working towards my bachelor's degree. I currently work as an assistant manager at Sonic, and that's how it will be for my foreseeable future. Once I graduate, I would like to branch out from Clarksville and work full time at a funeral home in Texas.
First of all, I would like to say that I did not expect to receive this award. However, I am very grateful for this opportunity. Second of all, I would like to take a moment to say thank you to Dr. Matthew Lampert. In my Intro to Ethics class, Dr. Lampert made the material very straightforward, and he made it clear what was expected of us. He also stayed after class every time a student had a question, follow up, or as he so eloquently put it, 'stairwell ghost'. He genuinely cares about his students leaving his class with, if not a new point of view entirely, a reinforced viewpoint. He made it abundantly clear not to rely on any structures purely for the fact that they are the norm; do not take everything at face value, first examine and contemplate them. Find your truth. This is something that I'm proud to have taken away from the class, as it is priceless.
I also want to thank Mrs. Rebecca Gardner and Mrs. Abby Shurtz, my teachers and advisors in the funeral service program. They have both been abundantly patient and understanding, and it is obvious that they have the best interest of their students at heart. They have not only pushed me, but been more than willing to work with me regardless of circumstance. They have been the best teachers that I could have ever asked for, especially in the start of my college career.
I am very grateful to be a student here at NTCC, but I am more so grateful for the dedication and helpfulness of the staff here. I have never been turned away or let down, and there is always some solution to the problems faced here. These are the best teachers that I have had the opportunity to learn from, and I will carry this with me."
The Social Science Division is please to recognize these 2019-2020 Outstanding Students in Philosophy. Fulltime and Associate Faculty in Philosophy include Dr. Matthew Lampert and Tyler Young. For more information about philosophy at NTCC contact Dr. Lampert at mlampert@ntcc.edu or Social Sciences Division Chair Dr. Fulgham at mfulgham@ntcc.edu.