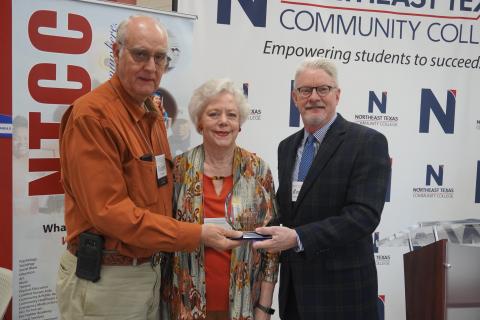 February 14, 2020
The Northeast Texas Community College Foundation was pleased to host the annual Scholarship Brunch on Friday, Nov. 1. This event brings scholarship donors and recipients together to meet each other and celebrate another year of outstanding students and generous giving. The Foundation currently awards more than 130 scholarships (many with multiple recipients) that are privately funded by individuals, organizations and businesses. Foundation scholarships are competitive and students must complete an application and essay in order to be considered.
Click here to view photos from the event
Richard and Margaret Perryman were honored as Distinguished Benefactors at the event. Not only have they generously sponsored the annual scholarship event for almost 20 years, but they also give scholarships.
"We are so grateful to the Perrymans for their strong and consistent support. Our scholarship gathering is the largest event our foundation organizes and it comes at a considerable cost. It is thanks to their generosity that we are able to gather here today to enjoy fellowship over a nice meal," Dr. Jonathan McCullough, NTCC Executive Vice President for Advancement, said.
Regina Glass spoke on behalf of the scholarship recipients. To learn more about scholarships at NTCC, or the mission of the Foundation, visit www.ntcc.edu/foundation. You can also give online anytime at www.ntcc.edu/give.