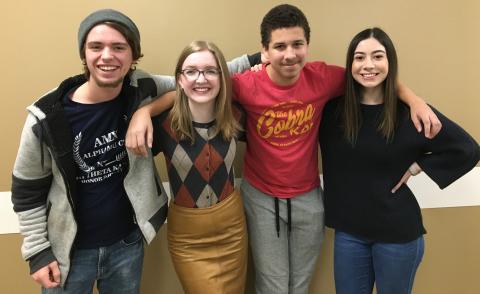 February 13, 2020
By: Dr. Andrew You, NTCC Honors Director
For their all-around excellence in the fall 2019 semester, the NTCC Honors Committee has promoted four NTCC Honors students to the rank of Presidential Scholar. This top-tier rank of Honors Northeast generally signals a high degree of scholarly creativity as well as persevering academic effort. The Presidential Scholarship that goes with this rank generally covers all tuition, fees, and books, making the cost of education negligible.
Honors Director, Dr. Andrew Yox notes, "we are so thankful for students whose determination runs the gamut from erudition to scholarship. Katelyn Cox, Sam Griffin, and Maritza Quinones developed essays last semester with a very high signal-to-noise ratio. Jalyn English exhibited both technical alacrity and a remarkable work ethic to produce our upcoming film on Adina De Zavala, in which Maritza is the star."
Sam Griffin, and Katelyn Cox were homeschooled, and are from Pittsburg, and Mount Vernon. Jalyn English is a graduate of Mount Vernon High School, and Maritza Quinones, of Mount Pleasant.
The NTCC Honors Committee has functioned since 2007 to establish program policies, determine student rank, admit new students into the program, and determine levels of scholarly excellence for NTCC's annual Boe nominations.
The group's film on Adina De Zavala, and the making of the Alamo as a patriotic supersite, one of a series of regional films produced by the students Honors Northeast, premieres 21 February at 7PM in the Whatley Center for the Performing Arts. The production is free and open to the public. Honors Northeast also is accepting applications for the 2020-21 school year. The application deadline is 1 March. Contact Dr. Andrew Yox with questions or comments at ayox@ntcc.edu.