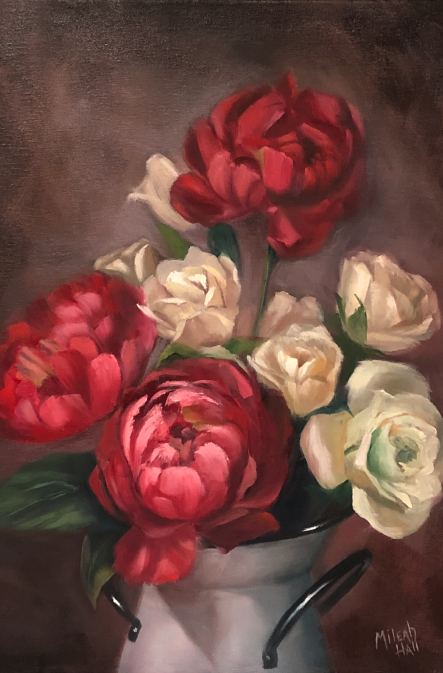 September 9, 2021
The Northeast Texas Community College Art Department is currently hosting its first exhibit of the 2021-2022 season in the foyer gallery of the Whatley Center for the Performing Arts. The exhibit features paintings in oil by Mileah Hall and will be on display through September 23.
Hall has served as an adjunct art instructor for several organizations during the last five years, serving at NTCC for the past year.  She recently joined the faculty full-time. Her love for art started to grow early in her life as her parents enrolled her in art lessons at the age of ten.  A native Texan, Hall holds a B.S. degree from East Texas Baptist University and a M.F.A. degree from the Academy of Art University.
"Joining the team at NTCC full time is very exciting for me.  I look forward to getting to know everyone and most importantly, helping my students building confidence in creating their art.  Art is very personal for me as it is for so many others.  I hope you enjoy the exhibit. " Hall said.
She has participated in group exhibitions in the Longview Art Walk, the East Texas Yamboree, and the Bosque Art Classic.  She has won numerous awards for her oil paintings of still life compositions and portraits.  Because she is an experienced mural painter, her work has been commissioned by churches to paint landscape scenes behind baptisteries and murals in classrooms for children.  Individual collectors have commissioned her work for murals and decorative finishes in their homes.
Hall has a strong desire to help others grow and develop their artistic talents. She is a member of Oil Painters of America, National Society of Decorative Painters, Lost in the Woods Painters, Texas Art Education Association and College Art Association.
An artist reception will be held Wednesday, Sept. 15 in the Whatley Center foyer at 12:30 p.m. The exhibit is free and open to the public Monday through Thursday from 9 a.m. to 4 p.m. and Friday from 9 a.m. to noon. Please call 903-434-8181 to ensure the gallery is open before visiting.