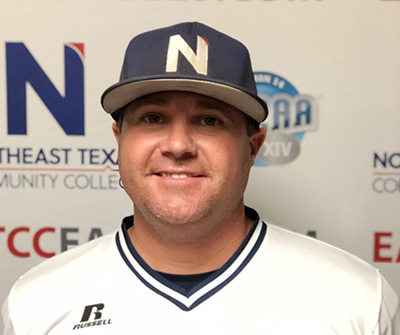 September 16, 2021
By: Justin Hargrove, Assistant Athletic Director
I just wanted to introduce any new employees and new students to our NTCC Athletic Director/Head Baseball Coach Andy Morgan. Coach Morgan arrived at NTCC as head baseball coach in 2017, and was named Athletic Director in January of 2018. In a decade of college baseball, Northeast Texas will mark Morgan's second junior college head coaching position, while also having two stops as a recruiting coordinator and hitting coach at the D1 level.

Morgan comes to Mt. Pleasant after spending the previous three seasons as the hitting coach and recruiting coordinator for Murray State University, in Murray, KY. Prior to Murray State, Morgan held the same position at Northwestern State University of Louisiana in Natchitoches, LA. Northeast Texas marks Morgan's second junior college head coaching post, as he was the head coach at Coffeyville Junior College prior to making the jump to D1 baseball.

During the 2016 and 2017 seasons, Morgan, a highly sought after recruiting coordinator, guided an offense that would finish the back-to-back seasons nationally ranked in the top 50 in eight offensive categories.

In 2016, with Morgan's first recruiting class on the field, Murray State would finish; 7th in the nation in doubles per game, 17th in on-base percentage, 19th in runs per game, 27th in team batting average, 28th in slugging percentage, 33rd in walks, 36th in total runs, and 44th in hits.

Again, during the 2017 season, Morgan put together a lineup that finished the season; 7th in the nation in homeruns, 12th in slugging percentage, 13th in runs, 24th in hits, 24th in on base percentage, 25th in doubles, 28th in batting average, and 43rd in stolen bases. In addition to national representation as a team, Morgan has guided three players to Freshman All-American accolades while at Murray State.

Prior to Murray State, Morgan was the recruiting coordinator and hitting coach at the storied baseball program of Northwestern State University of Louisiana. His recruiting philosophy included developing a territory within the Texas high school and junior college ranks. In his first season as recruiting coordinator, he put together a class that was ranked in the top 75 nationally by Baseball America, and designated a "notable class" in the lower central region. His second recruiting class, Morgan focused on homegrown talent as that class included four of the top 30 players from the baseball rich state of Louisiana.

In his time at NSU, he helped guide the program to its largest turnaround in school and conference history. In 2014, NSU finished the season 33-26 overall and 19-11 in the Southland Conference. From 2013 to the 2014 season, the Demons increased their wins total by a school record of 17, and a 14 win increase in conference play, setting a conference record.

Before making the jump to D1 baseball, Morgan was a successful junior college assistant and head coach. First as an assistant, Morgan helped lead Coffeyville junior college to post season play both seasons, then as head coach he lead the team to unprecedented heights.

In his first season as a college skipper, Morgan's squad again made post season play for the third year in a row. In his second season the Ravens set many school records including most wins in a season as well as posting their best conference finish in school history – finishing 3rd in the nationally competitive Jayhawk Conference, East Division.

Additionally, the club set 35 individual/team school records and Morgan was named the 2010 Jayhawk East Coach of the Year. Morgan's final two years at the helm of Coffeyville the team set another record with the most wins in back-to-back seasons in school history to that point.

In addition to his eye for talent, Morgan has a proven track record of developing players at the highest level. As a junior college head coach, Morgan helped over 20 players move on to four-year institutions, six players that earned post-season awards, and one NJCAA All-American. As a D1 hitting coach and recruiting coordinator, Morgan has developed a number of athletes that were drafted and/or signed free agent contracts.

As an assistant coach, Morgan spent his summers coaching for the Falmouth Commodores of the elite Cape Cod League, as well as being an associate scout with the Baltimore Orioles early in his career.

Prior to coaching, Morgan experienced success of his own as a middle-infielder for the Cowley County Tigers: finishing 3rd in the 2001 Junior College World Series. After junior college, Morgan finished his playing career at Parkville University, where he graduated with a bachelor's degree in business administration and marketing.

Morgan is originally from Manhattan, KS., and is married to Jennifer (Brown), from Harrah OK. They have two kids; Hannah and Duke.
Keep up to date with NTCC Athletics and athletic team schedules by visiting the athletics website at www.ntcceagles.com.