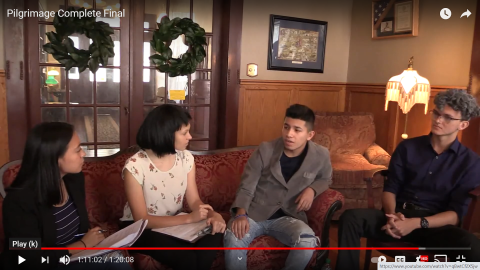 April 30, 2021
By: Dr. Andrew Yox, Honors Director
The 2020 NTCC Honors Northeast/Webb Society film on Bo Pilgrim, the great chicken magnate of Northeast Texas, is now available to the public. One can view the feature-length film, and experience the complete film score of Texas composer, Kenny Goodson, by accessing the NTCC honors film site at www.ntcc.edu/honorsfilm.
The film premiere occurred last 26 March on the campus of Northeast Texas Community College. One of the viewers, Maryna Otero, a doctoral candidate in education, and The Languages Other Than English Department Chair at Mount Pleasant High School, noted:
I appreciate the deep research performed by the students, the talents that they contributed to the process, and the industriousness that it took to shape and produce such an enormous work. The music was beautiful and entirely suitable for each scene. What a blessing to have had Mr. Goodson compose the musical accompaniment to the film. I again appreciated being a part of this celebration of the achievements of the honor students.
Jerald and Mary Lou Mowery of Mount Vernon have provided a constant stream of support for these films as have other donors of Honors Northeast since 2012. Films of other Northeast Texas community legends, the scripts, and the stories about how each were produced are also available at this site. Previous films include: the 2012 movie on the Morris-County father of national prohibition--Morris Sheppard; the 2013 production on the great Texas populist from Hughes Springs--Wright Patman; the 2014 look at Harriet Potter Ames—perhaps the only woman in Northeast Texas with a monument (by Lake Caddo); the 2015 film on Ma and Pa Ferguson, the corrupt husband-and-wife Texas gubernatorial team from Temple, the 2016 film on Sam Houston, and the Fall of the Texas Cherokee (For a generation in the early 19th century, Cherokee lived to the south of us); the 2017 movie on the story of the great Dallas cosmetics CEO, Mary Kay; the 2018 film on the story of Barbara Conrad and the University of Texas, 1956-57, and the 2019 film on Adina De Zavala and the Making of the Alamo.
The films of the NTCC Webb Society and Honors Northeast have qualified as historical projects encouraged by Walter Prescott Webb Society of Texas, the collegiate auxiliary of the Texas State Historical Association. The Pilgrim film was the fourth NTCC film to win a Webb Chapter Award, as the best project undertaken by a community college. The film series has also netted three $600 Caldwell awards for the best Texas history project undertaken by any college or university group in the state in 2015, 2018, and 2019.
A Whatley Enhancement Grant already has inspired the subject of the next film--over the great automotive designer, racer, and entrepreneur, Carroll Shelby. Shelby, born in Camp County, has endowed the Carroll Shelby Automotive Program at NTCC. Anyone interested in helping this coming year's film effort should contact: Dr. Andrew P. Yox at ayox@ntcc.edu.