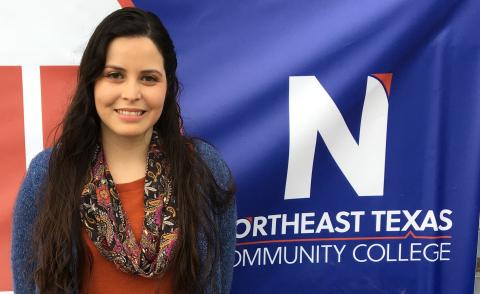 April 30, 2021
By: Dr. Andrew Yox, Honors Director
Andrea Reyes, NTCC's Title V Coordinator of Phi Theta Kappa, and Honors has recently received national recognition from two separate honors organizations, the National Collegiate Honors Council (NCHC), and Phi Theta Kappa. This month, the NCHC announced twelve Awards for Administrative Excellence, and Reyes was one of three recipients from community colleges in the nation to receive this recognition.  Reyes also recently won a Paragon Award for new advisors in Phi Theta Kappa, as reported two weeks ago in "What's Happening at NTCC."  In this, she again joined a select circle of twenty, nationally.
Reyes is no stranger to success. A Hughes Springs valedictorian and national merit winner, she was one of a star cast of NTCC's first Presidential Scholars. Her class included Mount Pleasant valedictorian, Kristin Ellermann, and the Boe-Award winning French foreign-exchange student, Thibaut Guidet.
Reyes now has a family with husband, Julio, two boys, and two girls, but her contact with NTCC has been steady, and marked by unusual accomplishments. Reyes received her Medical Lab Technology certification at NTCC, and worked for a time in this field supporting her family. Her instructor at that time, Gaylon Barrett, claimed that she had attained the highest score on the National Certification Exam for Medical Lab Tech, in the college's history.  She obtained a 760 of 800.
Before being employed by Title V as a Phi Theta Kappa/Honors Coordinator here, Reyes was active as a judge of the McGraw Hill Poster contests, the 13th of which will occur this Friday, 7 May in the Whatley Foyer at 9:30 AM.  Her spirit of public service while raising young children, and trustworthiness in these contests was so appreciated that in 2017, she became the adjudicator of the series, the one who makes the last-minute rulings on scorings.  She has since become the adjudicator as well for NTCC's annual Bonnie Spencer contest, and in the selection of Boe nominees.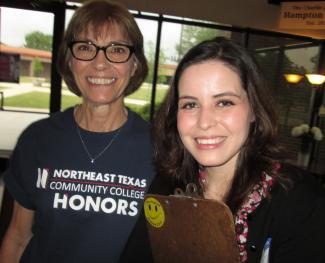 NTCC Honors Director, Dr. Andrew Yox, notes: "Reyes is one of the most brilliant and hard-working individuals I know.  She has an amazing acumen.  I so admire her artistic talents, her acting, and the gentle, winsome way she interacts with our top students. She has been an abiding presence in honors here since the beginning, and is a true diadem of our culture of student success here in Northeast Texas."
Reyes has handled many facets of NTCC's commitment to high-end education.  Her caretaking of honors Facebook <NTCC HONORS NORTHEAST>, and in the past year, has helped win 10,000 viewers who have been connected to some element of news of NTCC student success.  She also manages NTCC Honors Instagram, which often connects better with NTCC alumni.  She has written three booklets for honors including the first live directory of NTCC alumni, and has designed yearbooks for Alpha Mu Chi, NTCC's Phi Theta Kappa chapter.  Her inspiriting work with films has led to appearances in meetings of the State of Texas Webb Society, and the National Collegiate Honors Council.
Reyes and family remain residents of Hughes Springs.