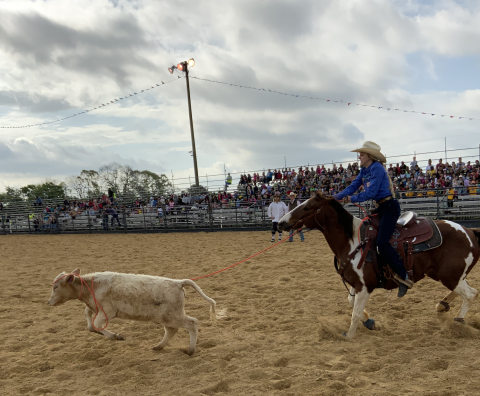 May 6, 2021
Pictured: Peyton Cooper in breakaway roping.
By: Justin Hargrove, Assistant Athletic Director
     The Northeast Texas Community College Rodeo team will make the trip down to Athens, Texas May 7th and May 8th to close out the National Intercollegiate Rodeo Association (NIRA) Southern Region season. Trinity Valley Community College will serve as the host for the event that was originally scheduled for February when the winter storm hit.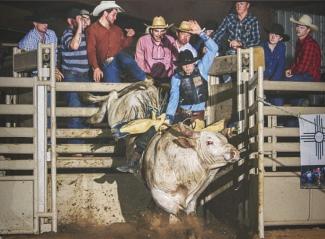 The Eagles last competed in the McNeese State University Rodeo in Lake Charles, Louisiana April 30th and May 1st.  NTCC Bull Rider Sean Garner (Darndanelle, Arkansas) won the Bull Riding event. Sean is having an outstanding year and is one qualified ride from making the College National Finals Rodeo in Casper, Wyoming June 13-19, 2021.     
     Peyton Cooper (Ivanhoe, Texas) brought home a third-place finish in the ladies break away roping to lead the way for the Women's Rodeo team.
     The team has worked hard all year overcoming COVID-19 related cancellations, extra safety protocols, and bad weather to compete in Rodeos across Texas and Louisiana.
     NTCC competes in the Southern region of the National Intercollegiate Rodeo Association with Hill College, Louisiana Tech University, Louisiana State University-Alexandria, McNeese State University, Panola Junior College, Sam Houston State University, Southwest Texas Junior College, Stephen F. Austin University, Texas A&M University, Texas A&M University-Commerce, Texas A&M University-Kingsville, Trinity Valley Community College, and Wharton County Junior College.
     The Eagles will host a Rodeo in Mid-October, be on the look out for the exact date, times, and location. For anyone wishing to come on board as a sponsor for the Rodeo, contact Coach Skylar Hunnicutt at shunnicutt@ntcc.edu.