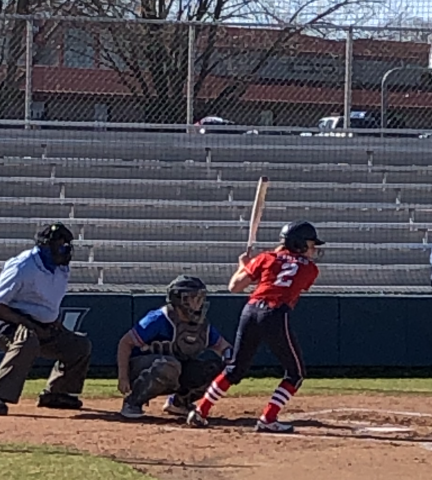 April 29, 2021
Pictured: Emma Farquhar, who went 4-4 with 4 RBIs in game one.
By: Justin Hargrove, Assistant Athletic Director
Northeast Texas Community College Softball made the trip down to Tyler on Wednesday for a two-game series with the Tyler Junior College (TJC) Apaches. TJC held on for a 9-7 win in game one and took down the Eagles 7-0 in game two of the set.
While the Apache pitchers kept the Eagles off the board until the third inning, they got going offensively in the first inning scoring two runs in the opening inning to lead 2-0. TJC would add a run in the second to increase the lead to 3-0.
NTCC got things going in the third when Hanna Allen (Hudson HS) doubled to open the third inning and scored when Trinity Needham (Melissa HS) singled in the next at bat to cut the lead to 3-1. TJC answered back in the bottom half of the inning, scoring one run as well to move the lead to 4-1.
The Eagles would send eight batters to the plate in the fourth inning as they scored 4 runs in the top half of the inning to take a brief 5-4 lead. NTCC had four singles and a double in the inning to score Lauren Isbell (Burleson HS), Averie Ayers (Mount Pleasant HS), Needham, and Emma Farquhar (Hooks HS).
TJC would take advantage of a walk and a triple to score two runs in their half of the fourth to regain the lead 6-5. NTCC would go scoreless in the fifth, while TJC added one more run to bring the game to 7-5 after five innings of play.
Hanna Allen would single in the six and then make her way home when Farquhar singled to bring her home and cut the lead to 7-6, Farquhar had a four for four day with four RBI's to lead the Eagle offense.
TJC added their final two runs in the sixth inning to lead 9-6 heading to the final inning. NTCC would not go away easily, Kailey Hancock (Central HS) doubled to start the inning, Tasha Pierce (Hudson HS) followed that with a hit by pitch to give the Eagles two base runners. Abby Russ (Hooks HS) would single to score Hancock to bring the final to 9-7 Apaches.
In game two action, TJC kept the Eagle hitters off balance and off the score board on their way to the 7-0 win. The Eagles managed eight hits in the contest, but could not overcome strong pitching by TJC to get the runners home.
NTCC will return to conference action on Saturday, April 24, when they travel to Kilgore College. You can catch the Eagles at home on Friday, April 30th and Wednesday, May 5th as they close out conference play.