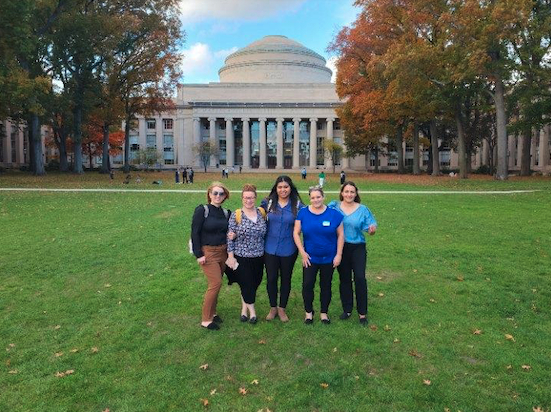 November 22, 2022
The Northeast Texas Community College CARE Center staff traveled to the Massachusetts Institute of Technology (MIT) in Boston to present at the 10th Anniversary First Gen Summit.  Lead presenters Tonya Elmore and Tiffany Carpenter discussed the NTCC 1st Gen mentor program and the importance of student-led initiatives and peer mentoring.  Madia Arredondo and Carmen Shurtleff presented on the program's expansion to include a 1st Gen student organization, podcast, and recognition of 1st gen students through student activities. 
The team had a great time and learned about best practices and supportive services for 1st Gen. One takeaway was the importance of positive student perceptions when advising 1st gen minority students and the impact of communication, advising style, and focus on the individual student. 
NTCC was the only southern rural community college that presented at the conference and represented Northeast Texas.
"We are very proud that we were able to share knowledge and advocate for alleviating barriers in higher education attainment. If you want to learn more about the mentor program, drop by the CARE Center and see exciting student-led activities," Shurtleff said.