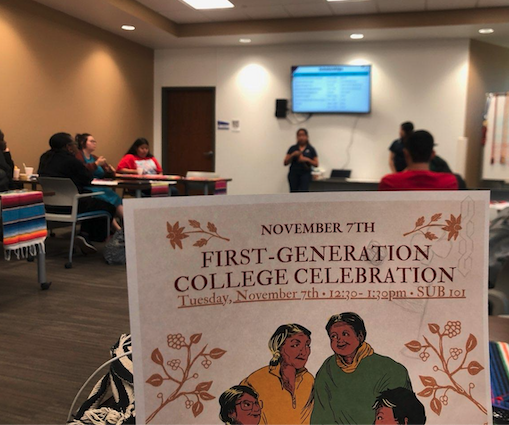 November 17, 2023
From November 7th through November 9th, Phi Theta Kappa partnered with Social Work to celebrate First-Generation students, faculty, and staff members at NTCC. Each day during the activity period, Alpha Mu Chi President Monserrat Rivero Sanchez facilitated a workshop in SUB 101 that featured critical skills and aspects to benefit first-generation students. Tuesday's workshop was titled, "Resume Writing, Scholarships, and Interview Tips." During the first workshop, chapter treasurer Michelle Calderon expanded on topics such as, what it means to be first-generation. Presenters Rivero Sanchez and Calderon covered the importance of resume and cover-letter writing, as well as applying to scholarships.
Phi Theta Kappa member Luke McCraw particularly enjoyed the first workshop, which he voiced during his interview. McCraw commented, "I found the discussion to be very informative and helpful to my future experiences. Michelle Calderon and Monserrat Rivero Sanchez have once again shown the importance of teaching student skills and abilities to use in real life situations."
For the second workshop, chapter Vice President Ruby Ferretiz joined Rivero Sanchez to host a self-advocacy workshop. This workshop emphasized the importance of identifying student resources and included steps to request testing accommodations for those with disabilities. During their presentation, Ferretiz listed tips to becoming a successful community college student. Among these tips, some of the topics included time-management, communication, and personal accountability. The workshop also addressed the importance of transfer readiness and transfer evaluations, self-advocacy in the workplace, and self-advocacy towards others. 
When interviewed about his thoughts on the workshops, Phi Theta Kappa member Garrett Phillips summarized the importance of each workshop in three words or less. Phillips noted the "power of privilege, self-advocacy, and interview edicts" that he took away from each presentation. Phillips particularly enjoyed the third workshop, where he learned how a "big voice in the front" could "impact, encourage, and help the small voices in the back from going unheard."
Rivero Sanchez led the third and final workshop of first-generation week, titled, "Understanding Identity and Privilege: Building Community and Empathy." Throughout this workshop, attendees were encouraged to consider the role of identity and intersectionality in shaping people. Students participating in the event were asked to consider the importance of race, ethnicity, age, personal identity, gender, and other aspects of intersectionality. The workshop taught students to help those in need by recognizing areas of privilege. A common theme throughout the workshop was advocating for others by leveraging personal advantages and privileges.
Like Phillips, Phi Theta Kappa member Vanessajane Bayna benefitted most from the third workshop. Bayna commented that the workshop taught her about how she could use her privileges to help others and which values to prioritize most in her own life. Bayna particularly enjoyed the icebreaker towards the end of the third workshop, which enabled attendees to voice their opinions to one another.
NTCC student Joey Condrey particularly expressed interest in this icebreaker and the third workshop. Condrey recognized the importance of intersectionality in shaping individuals by commenting, "despite how small our differences seem, they have a big effect on our personalities." Condrey added that these differences shaped the thoughts and opinions of workshop attendees during the icebreaker.
When interviewed about her role in first-generation week, Monserrat Rivero Sanchez commented that it "was an honor" to present different topics to her peers. She thanked Dr.
Clinton and Carmen Shurtleff for granting her this opportunity and felt "very pleased" to see members of the college come together to consider different workshop ideas. Rivero Sanchez commented that her goal for first-generation week was to raise awareness and communicate the meaning of first-generation to others. By hosting workshops each day, she hoped to communicate to first-generation students that they are not alone on campus and instead have a large support system available to them. Rivero Sanchez considered her own support team during the planning phase of each event, thanking members of the Care Center team, such as Carmen Shurtleff, Tonya Elmore, Zack Braham, and McKenna Neal. They each played a vital role in the planning and implementation of first-generation week. Rivero Sanchez similarly thanked the members and advisors of Alpha Mu Chi, including Ruby Ferretiz, Michelle Calderon, and Melody Mott. Concluding her interview, Rivero Sanchez thanked the staff and student body of NTCC for cheering her on during and after each presentation.
Phi Theta Kappa Honor Society's four hallmarks, Scholarship, Leadership, Service, and Fellowship help members develop skills to benefit themselves, their college, and their community. For more information on Alpha Mu Chi, NTCC's chapter of Phi Theta Kappa, email ptk@ntcc.edu or contact Chapter President Monserrat Rivero Sanchez at mriverosanchez002@ntcc.edu or email our chapter advisors Dr. Matthew Lampert at mlampert@ntcc.edu and Melody Mott at mmott@ntcc.edu. For more information about the resources at the Care Center at NTCC, please contact Tonya Elmore at trelmore@ntcc.edu or Carmen Shurtleff at cshurtleff@ntcc.edu.