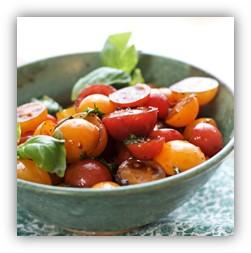 FARM FASHIONED RECIPE: HERBED HEIRLOOM CHERRY TOMATOES
Submitted by: Rene' McCracken, Director of Agriculture at NTCC
Graduation commencement has ended another semester at NTCC and with mixed feelings we graduated some of our favorite students on the farm! With three whole weeks ahead of us, it will be the best we can do to be keepers of the farm until our new Work 4 Scholarship students arrive willing and ready to continue planting and help with the harvest on our sustainable market farm.
The moderate storms and rainfall have proven difficult for gardeners and farmers alike in the Northeast and NTCC has not managed to dodge the bullet on extra rainfall this spring. Some old time tomato favorites like Black Krim and Beefstake are struggling to produce in the weather extremes, however our cherry tomatoes are off and running to a good start for the summer harvest. Of course, I can just eat them right off the vine but when I am looking for a "wow-able" product that we can sell at next Tuesdays Farmer's Market in Mount Pleasant – I am thinking this week's Farm Fashioned Recipe: Herbed Heirloom Cherry Tomatoes will draw the attention and sales that I need. Plus if there are leftovers – I definitely know where they are going!
Herbed Heirloom Cherry Tomatoes:
INGREDIENTS
4 cups cherry or grape tomatoes, halved if larger than bite sized ( I am using black cherry, Matt's Wild Cherry, Atomic Grape, yellow pear and Large Cherry varieties)
¼ cup red onion minced – greens and all if you have fresh picked
¼ cup fresh herbs: basil, chives, oregano, parsley (roughly chopped)
¼ cup of balsamic vinegar
¼ teaspoon sugar (raw, natural)
¼ teaspoon minced garlic
Salt and pepper to taste
Combine vinegar, sugar, garlic, salt and pepper in a small bowl. Next clean, prep and chop you herbs and slice tomatoes and onion then combine in large bowl. Next pour your vinegar and spice mixture and mix thoroughly. Give the mixture a taste and see if it is to your liking. Refrigerate for an hour to let flavors combine and then serve. Optional: Place mixture in jars, add additional white wine vinegar if needed to cover the tomatoes and give as gifts or sale at farmers market like we will be doing. The mixture will be a definite go to in your fridge for up to a couple of weeks. It can be eaten right out of the jars, use as a topping for your favorite pasta, or one of my favorites on top of grilled chicken or as a last addition to roasted vegetables! I am sure that you will find other ways to enjoy this farm fashioned specialty! If you would like to see most recipes - check out our site at www.ntcc.edu/ag or better yet stop by and see us the Mount Pleasant Farmer's Market at Caldwell Park beginning at 4 pm on Tuesday afternoons. You can also contact Rene' McCracken at 903-434-8267 for more info.