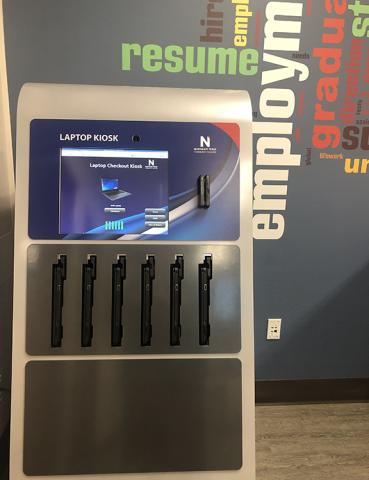 The NTCC Transfer Support Team is pleased to announce that two new laptop checkout kiosks are now available for student use! The state-of-the-art machines allow students to swipe their student ID card and check out a laptop that can be used at their convenience. Below is more information about the machines:
Kiosks are located in the BT building in the Transfer Support area and in the SUB outside of the College Store
Only students who are currently enrolled in a class that is actively in session are allowed to check out a laptop
The laptops come with basic software installed, including Microsoft Office 365
Students can keep the laptop for up to 24 hours
Students will need to use a flash drive or save their work to the cloud, as files will be deleted from laptops daily.
Questions about the laptop kiosks can be directed to Linsey Harwell, Director of the Title V Coop Grant, at lharwell@ntcc.edu or 903-434-8129.
100% of the funding for this project was provided by a $3,750,000 grant from the U.S. Department of Education