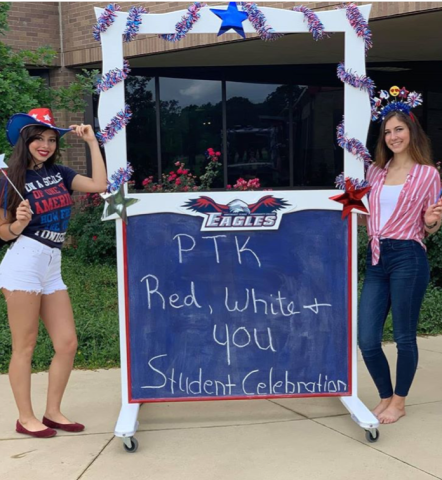 NTCC's Alpha Mu Chi chapter of Phi Theta Kappa hosted a campus-wide "Red, White, and YOU!" Celebration to kick off the Fourth of July week. The patriotic-themed event, made possible with support from SGA and the Student Activities Office, was intended as a way for individuals to celebrate their decision to come to NTCC as well as to learn more about the benefits of Phi Theta Kappa. The event included free pizza, music, water balloons, a water slide, and other activities.
As part of the event, a photo contest was held. The image with the most likes featured sisters Parker and Presley Smith. Daisy Banda placed as runner-up with her energetic "school spirit" image.
Winners won gift baskets with items from Starbucks and Jo's Coffee. Many thanks to everyone who came and celebrated, despite a bit of intermittent rain!
To learn more about Phi Theta Kappa and the benefits of membership, including the qualifications for membership, email lead advisor Dr. Melissa Fulgham at mfulgham@ntcc.eduor the chapter Executive Board at alphamuchi.ptk@gmail.com.