A College Transition Program for Graduating High School Seniors
What is the Summer Success Program?
This is a program designed for students who are transitioning from high school to college. The students will receive a scholarship allowing them to live on the NTCC campus for free during the summer while taking classes at NTCC. All students will report to mentors who will help them to move smoothly from the life of a high school student to that of a college student.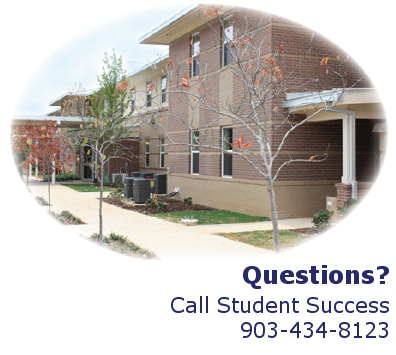 Who is this program for?
This program is for students who are graduating from high school in the spring of 2019 and are planning on attending college in the fall (or, in many cases, wanting to see if they are ready to attend college classes in the fall).
Why would I want to be in the Summer Success Program?
Transitioning from high school to college can be a very stressful experience, especially if you are going to live away from home. This program will allow you to "get away" -- but not too far away. It will also help you learn how to be a successful student. When students go away to college, many of them have much more time on their hands than they have had in the past. Learning time management skills along with how and when to study for college related courses can be very beneficial to your future success. This program helps you transition slowly without being thrown into college life all at once. In addition, the classes you take this summer will help you to get ahead. With the rising costs of a four year degree, every class you can take in advance at NTCC will save you hundreds and even thousands of dollars.
When does the program take place?
The Summer Success Program takes place during the Summer 1 session (June 10 through July 11) at NTCC. Students will live in the new campus housing on Sunday through Thursday nights.
What do I have to do to be eligible?
You MUST be a 2019 high school graduate or 2018 Summer Success Returning Student.
What do I do if I want to apply?
Fill out the application form.
What do I do to receive the Summer Success Program Scholarship?
- You MUST enroll in six hours (two classes) for the summer term.
- You MUST fill out FAFSA. Many high school students who fill out FAFSA, and qualify, can begin receiving federal grants/funding as early as the summer after high school graduation. This federal aid could help you pay for your summer classes.
- You MUST purchase a lunch meal plan for each semester that you are in the program. That plan costs $100 (four lunches a week for four weeks. There will be no lunch service provided the last week).
- You MUST have reliable transportation.
PLEASE NOTE: Most high school seniors are already filling out FAFSA for the 19-20 school year. However, in order to qualify for funds for this summer, seniors should also fill out FAFSA for the 18-19 school year.
Do I have to attend NTCC next fall in order to be in this program?
No. This program is for any graduating senior who plans on attending college next year, whether NTCC or any other college.
Do I have to take certain classes?
No, you can take any face-to-face class offered at NTCC, but you must take six hours (two classes).
So, I qualify for the scholarship allowing me free dorms for the summer because I am graduating this spring. Exactly what will my out-of-pocket costs be?
You will be required to pay for your two classes. These prices vary based on whether you live in-district or out-of-district. Please see the cost calculator on the college website homepage for more information. You will also have to pay $100 per summer semester for a lunch meal plan.
Why do I need reliable transportation?
Although you are required to purchase a lunch plan, you will be responsible for your own breakfast and supper. The dorms do have kitchenettes that include microwaves and refrigerators, but there is not a stove. You will be able to cook some meals, but you may occasionally need to go to town (or home) to eat.
Why is the program only Sunday through Thursday?
Classes are Monday through Thursday. Therefore, you will be allowed to stay in the dorms the night before classes take place each week. However, this is a transitioning program, and there will be no services offered over the weekends at the campus.
Would it be possible to stay in the dorms on the weekends even though there is not any programming taking place those days?
Yes. However, we remind you there will not be any activities taking place over the weekend, including meals.
It says I will be assigned a mentor. What is the purpose of the mentor?
Your mentor will work with you on transitioning from high school life and living at home to college life and living away from home. This will include everything from managing your time to learning to cook and doing your own laundry in the dorms. Your mentor will also check on your grades and attendance and help you with any tutoring needs. In addition, you will be part of a transitioning team where you will team building exercises with other students in the Summer Success Program.
If I have a friend that qualifies and wants to be in the program also, can we room together?
Yes (as long as you are the same sex).
What other things might I need to know?
All students must have a Bacterial Meningitis shot in order to live in the dorms. You must have this shot before you can be in the program.