May 15, 2015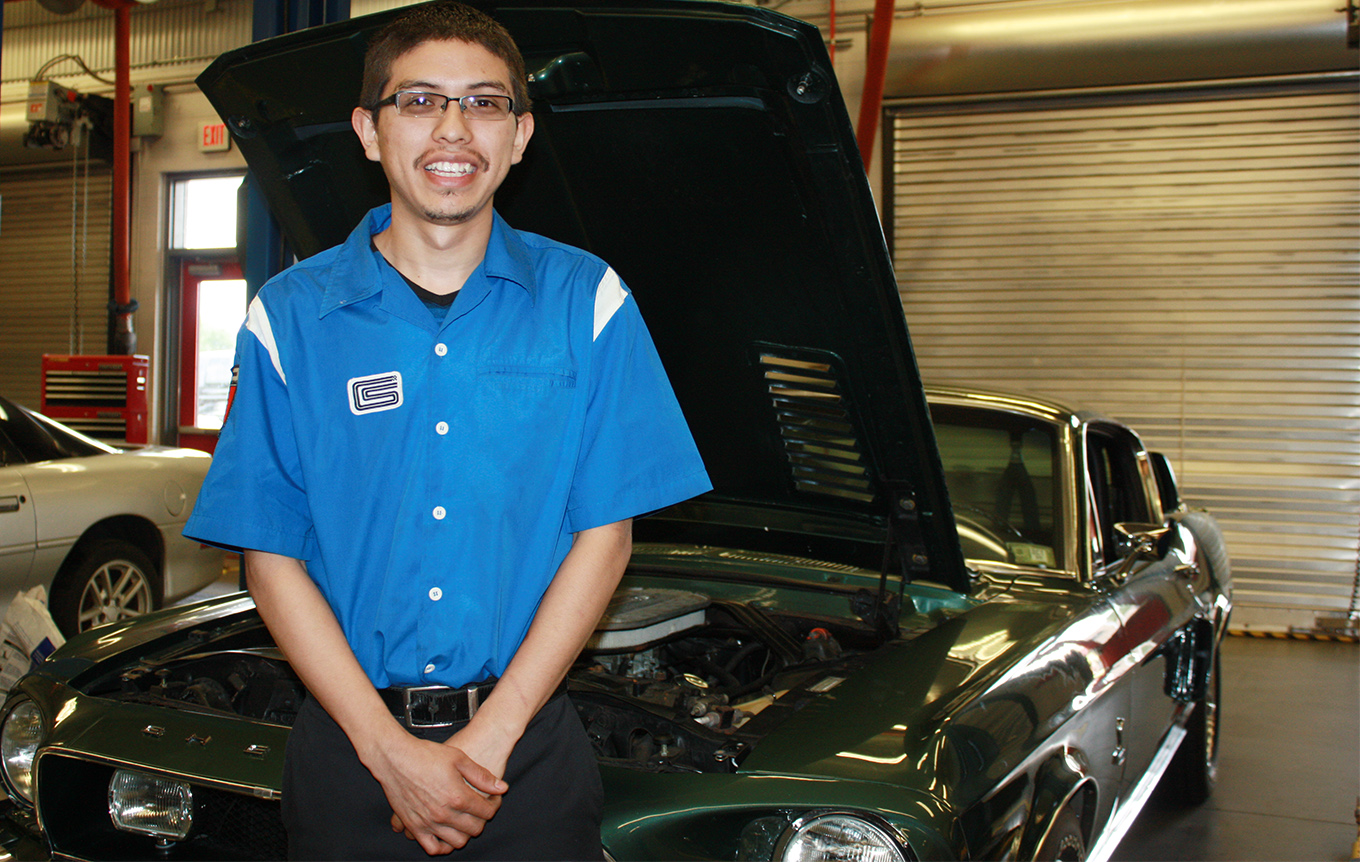 Raul Herrera is racing toward a bright future.

He just completed the Carol Shelby Automotive Technology Program at Northeast Texas Community College and has landed an internship as a motorsports mechanic with Eastex Motorsports, a professional racing team based in Mount Vernon.

Eastex Motorsports is a family-owned racing team led by driver Adam Poland, also a Shelby program graduate.

?This is our first opportunity to have an internship with a professional race team,? said Keith Fennimore, director of the program. ?It? pretty exciting for us.?

Herrera and freshman Kaleb Dorsey were recommended for the internship, a new partnership between the school and Eastex Motorsports for 2015.

Herrera will also attend the Shelby program?s Performance Academy this summer, which teaches students how to build and tune race car engines. He started in the Shelby program as a dual credit student from Mount Pleasant High School in 2011.

Fennimore said one of the most important things the instructors teach the students is ethics, including honesty and reliability. Passion and drive are the characteristics that set them apart. Poland, who races a 2008 Mazda MX-5 in the TC Pirelli World Challenge series, developed the internship program to promote the next generation of racers and technicians.

?He realizes that he has an opportunity to give other people opportunity,? Fennimore said. ?For a young man, that?s admirable.?

Herrera ultimately wants to design cars.

?He has a passion and loves cars and he?s really into the whole design idea. What I would tell him is to follow that passion and don?t give up,? Fennimore said.

Herrera and Dorsey have one race under their belts at Circuit of the Americas in Austin in March.

?We actually got to work on the transmission. You don?t want to have problems with the car, but it was a great experience for both of us,? Herrera said.

They head out with the team for the second race in the series May 15-17 at the Canadian Tire Motorsports Park.

Fennimore said Herrera is one of those students that ?make it all worthwhile.?

?You see them go from students learning all these things and you get to see them mature into someone who has the proper ethics and skills they need,? he said. ?We work with a lot of students. We get them jobs and that?s our goal, but these are the students that take it to the next level.?

Herrera said the internship opportunity is something he never expected, especially since he dropped out of the Shelby program for a year in 2014.

?I missed being here and I had to come back and finish,? Herrera said. ?I?m so thankful for the opportunity. I never thought I would be on a racing team and this wouldn?t have happened if I had graduated last year.?

Herrera?s advice for his fellow Shelby students: ?You have to be committed to it and be motivated. The tools are here. The equipment is here. You just have to get in there and do it.?

To learn more about the Carroll Shelby Automotive Technology Program, contact Fennimore at 903-434-8159.