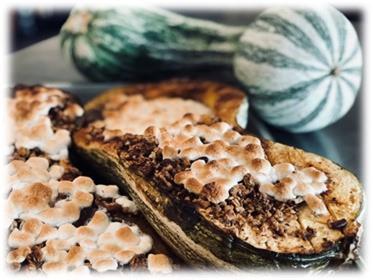 November 30, 2018
Submitted by René McCracken, NTCC Ag Director
Every year we attempt to add new things to the farm to demonstrate sustainable farming practices and add a new detail to our farm story. This past summer we worked to start a pumpkin patch that would be in the north yard of our ag complex – basically front and center to all who would visit us. The work scholarship students worked hard to plant a variety of pumpkins including an old-time and lesser-known favorite the Cushaw.
The cushaw is a variety of winter squash and is originally from the south of Mexico. It is a large (sometimes up to 20 pounds!) squash with a characteristic green and white striped pattern. It has a mildly sweet taste and behaves like a pumpkin or squash when it is cooked. It has the advantage of having resistance to both mildew and squash vine borers that can be a problems with growing pumpkins. We planted both and found a lot more stripped cushaw thrived than did pumpkins. With such a bumper crop we now had to determine what to do with them. The cushaws were entered into the Horticulture contest at the Titus County Fair and won a sweepstakes ribbon for our farm! Next we needed to determine how to utilize them in our recipes. The savory recipes such as soups, roasted vegetables and even fixed as a low carb version of mashed "potatoes" were winners in our taste tests. However the most "stars" were definitely awarded to our Cushaw Dessert. The Farm Fashioned Recipe for today features our old fashioned cushaw dessert.
Select your best cushaw and slice into and remove the seeds – we scraped is with a large spoon. Rub the outside with olive or coconut oil and place cut side down on metal pan for roasting. It took 45 minutes at 400 degree convection roasting to soften this squash. Next, remove from oven and flip cut side up. Then you are ready to make your squash a dessert. I used pumpkin pie spice, brown sugar, and butter and placed back into the oven at 400 degree roasting for 20 minutes. Remove and add your favorite toppings: Marshmallows, pecans, more pumpkin pie spice and sweetened evaporated milk and granola dressed up our dessert nicely as you can see from our picture! If you would like more information about our NTCC Farm, list of recipes or the agriculture program go to www.ntcc.edu/ag.