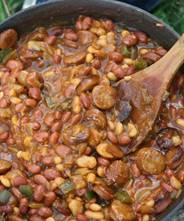 December 6, 2018
Submitted by René McCracken, NTCC Ag Director
The Thanksgiving holiday for cooks is anything but a holiday to be putting it mildly.  It is filled with all kinds of family favorites and historic dishes that challenge each household to get everything just right for the big reveal on the family table. The pressure of perfection can only be out-weighed it seems by the sheer expense of producing the perfect meal sometimes. Last but not least, there definitely is not a single calorie counted nor serving size observed when we show our "thankfulness" sometimes more than once over the holiday. So after all of the festivities, I am usually a little less inspired to create lavish meals for my family.  Of course, that is not their desire or expectation of a mom that "can just throw together a five-course meal" with just a few things in the pantry and 30 minutes in the kitchen!
This year my after thanksgiving meal was named by my baby girl as "Up-scaled Kindergarten Feast." Now while this is not generally keeping to my theme of farm fashioned recipes – It definitely works to give all us hard working cooks a break by providing a quick meal that definitely satisfies!
So what pleased my family so well? The simple beans and weenies and macaroni and cheese with just a little more flare. Of course, both of these come in a can and that I think is the unexpectedness of the dishes. Never have I truly tried to take a kindergarten meal and make it for big kids before – but the ease and versatility of it may have your family picking a kindergarten dinner night of the week themselves!
Beans n Weenies
Use your favorite hotdog or even sausage and slice and cook in a skillet until your desired "char" is achieved on the weenies.  Next open a can of your favorite style of baked beans and add them into the pan.  Last ingredient is up to your families tastes. You can add a thick and hearty picante sauce or your favorite BBQ sauce or even sliced jalapenos to really heat things up a bit.  Given the dish a couple of stirs to mix well then put in the oven to finish off at 350 degrees till thickened and bubbly.
Mac n Cheese
Purchase your favorite type of pasta noodle. I used large elbow and loved the way it held all the cheese. Boil the pasta noodles till just right and strain most all the water from the pot.  Add in a stick of real butter, salt, pepper, 1 cup of milk or heavy cream and a small package of fresh spinach. Then add in your favorite Velveeta cheese; I chose white queso cheese for our dish. Lastly, my secret to the creamiest dish ever is to add about a ¼ mayo to the mix and stir well till all cheese is melted and blended. Pour mix into a casserole dish and cover with grated cheese and if you have them croutons.  Put into your 350 degree oven and cook till cheese is melted. Serve immediately and enjoy! If you would like more information about our NTCC Farm, list of recipes or the agriculture program go towww.ntcc.edu/ag.