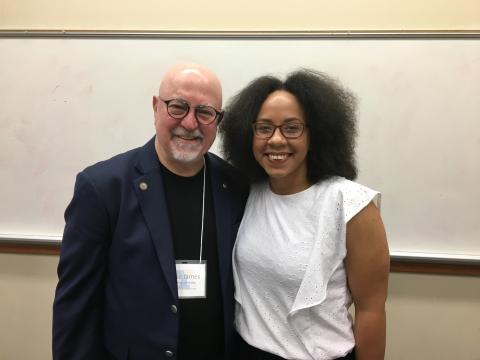 April 19, 2019
By: Dr. Andrew Yox, Honors Director
For the tenth time in twelve years, a scholar of Honors Northeast has won one of the six Boe Awards conferred by Great Plains Honors Council (GPHC) in its yearly meeting.  The GPHC is an association of eighty honors colleges, and programs from Nebraska and Missouri, down to Texas.  Boe awards are bestowed each spring to the six most compelling and creative student works of scholarship submitted to Council judges by a January deadline.  There are three awards for the junior-senior division, and three for freshman-sophomore division. 
Baldwin is the second scholar from NTCC's HuMusic Honors Seminar, in two years running to win the Boe Award.  Her essay was on the use of music in African-American movements to galvanize, unite, and direct concerted action.  In perhaps the most exhaustively researched work ever submitted from NTCC, Baldwin covered the role of spirituals in Emancipation, the role of Jazz and movement songs in the Civil Rights movement, and the use of Hip Hop, and R&B in the Black Lives Matter movement today. 
Dr. Andrew Yox, Honors Director, noted: "Baldwin not only won a Boe Award, but amazed everyone, including GPHC President-Elect, Dr. Mike James, with a spirited, luminous presentation of her work.  In addition to acknowledging her special effort, we are also beholden to Dr. Andrew Daniel, and Dr. Melissa Fulgham for mentoring two Boe winners, coming from their seminar, two years in a row.
NTCC Honors Committee members, Erika Garza, Dr. Jeremy Holland, Dr. Drew Murphy, and Heidi Wooten, working with honors coordinator, Andrea Reyes, first delineated Baldwin's essay from a larger pool of NTCC submissions, and made two official NTCC nominees: the essays of Baldwin, and Jacob Lambie.  GPHC professorial judges then used a fifty-point rubric to determine the regional winners.
The April 5-7, 2019 meeting of the GPHC occurred for the first time in its nearly fifty-year history on the campus of the University of Texas at Tyler.
Several other scholars from NTCC also qualified to present their work at the Tyler GPHC meeting: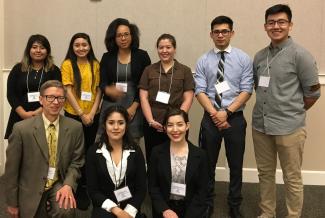 NTCC Scholars and Professor at the GPHC read as a book:  Verania Leyva, Jazmin Garcia, Courtney Baldwin, Mercedes Collins, Daniel Landaverde, Dr. Andrew Yox, Karla Fuentes, and GPHC Student Representative, Hannah Dickson. Not pictured: Madison Blood, and Jacob Lambie.
This group included:  Verania Leyva from Mount Pleasant presenting her Caldwell-Award winning work on Barbara Conrad; Jazmin Garcia from Mount Pleasant on the influenza epidemic of 1918-19, Mercedes Collins from Daingerfield on University of Texas President, Homer Rainey; Daniel Landaverde from Mount Pleasant on his Caldwell-Award winning work on Mount Pleasant's Hispanic immigrants, Miguel Paco from Mount Pleasant on NTCC's Caldwell- and Webb-Award winning film on Barbara Conrad, Karla Fuentes from Winnsboro on Mary Kay, Hannah Dickson from Pittsburg presenting her Caldwell-Prize winning work on the history of Mount Pleasant's Hispanics, Jacob Lambie from Scroggins presenting his work on the lingering traces of racism at the University of Texas in the 1950s, and Madison Blood from Big Sandy on the need for sustainable agriculture.
A Sunday morning plenary meeting of GPHC directors included the Student Representative of the GPHC, NTCC's own Hannah Dickson, who won the top student position of the council in the fall of 2018 election.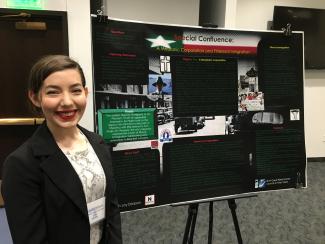 Above: Hannah Dickson and her GPHC poster.
The Friends of Honors Northeast, a group of community patrons, paid for the cost of the posters this year for NTCC students at the yearly meeting.  For any questions about the scholarship of NTCC students, feel free to write the Honors Director, Dr. Andrew Yox at ayox@ntcc.edu or consult the honors website www.ntcc.edu/honors for an extensive collection of prize-winning poems, images, films, and essays on Northeast Texas.