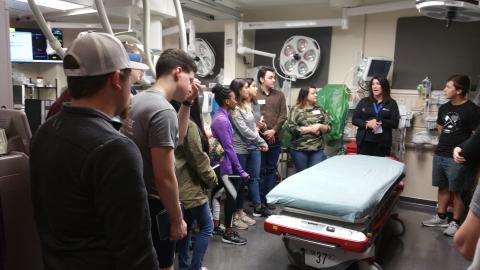 April 18, 2019
The Northeast Texas Community College BioChem Club recently had the opportunity to tour a Level 1 Trauma Center in Fort Worth to get exposure to careers in the emergency medical field. Below are some interesting facts that were shared during the tour:
Level 1 Trauma Centers have to be certified by the American College of Surgeons to handle over 340 different types of trauma injuries

Physical Trauma is #1 cause of death for people under age of 40

Trauma Patients have a 25% increase of survival if treated at a trauma center vs. standard emergency rooms

Unlike hospital rooms, trauma rooms are kept very warm (above 80 degrees) to prevent shock from the lethal triad of acidosis, blood clotting, and shivering

Texas has the highest rates of trauma patients related to alcohol and drunk driving than any other state - not even a close second

In Texas, falls or falling is the #1 cause of trauma in the state followed by motorcycles, physical assault, auto/pedestrian accidents, and gunshots
The BioChem Club is a student organization for science majors. The club participates in community service, take educational trips and hosts social events. They also serve as judges at the regional science fair. If you are interested in joining or would like more information on BioChem club, please contact Jim Ward, Professor of Biology, at jward@ntcc.eduor 903-434-8286.