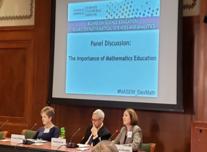 April 18, 2019
Recently, Dr. Paula Wilhite was an invited guest panelist at a two-day workshop, "Increasing Student Success in Developmental Mathematics", at the National Academies of Sciences, Engineering, and Medicine in Washington, D.C.  The event was sponsored by a committee of the Ascendium Education Group that included Dr. Uri Treismann, Executive Director of the University of Texas Dana Center, and Dr. Tristan Denley, Executive Vice Chancellor for Academic Affairs at the University System of Georgia.  Both Treismann and Denley are prominent national leaders of the redesign of developmental mathematics curriculum including the current co-requisite model implemented across many states including Texas.  
This two-day public workshop focused on how to best support students in post-secondary mathematics courses, with particular attention to students who are unsuccessful in developmental mathematics. The workshop brought together a variety of stakeholders, including experts who have implemented new initiatives designed to improve the mathematics education experience for students. During sessions at the workshop, participants:
1. Explored promising approaches to bolster student outcomes in mathematics
2. Identified and discussed barriers and opportunities for effectively serving all students
3. Established key directions to address the prevailing research and data needs in the field.  
Shown in the photo left to right are the opening panelists:  1) Dr. Paula Wilhite, Chair, Developmental Mathematics Committee, American Mathematical Association of Two-Year Colleges and  NTCC Professor of Mathematics, 2) Dr. Mark Green, Distinguished Research Professor of Mathematics at the University of California at Los Angeles and a Fellow of the American Academy of Arts & Sciences, and 3) Dr. Linda Braddy, Vice President for Academic Affairs at Tarrant County College and previously Deputy Executive Director of the Mathematical Association of America and co-author of Common Vision of 2025.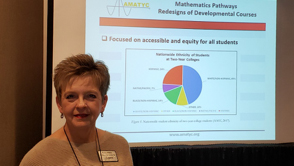 Earlier in March, Wilhite also presented at the National Association of Developmental Education.  Her talk focused on the multi-dimensional issues that surround the most recent redesigns of developmental mathematics curriculum.  As