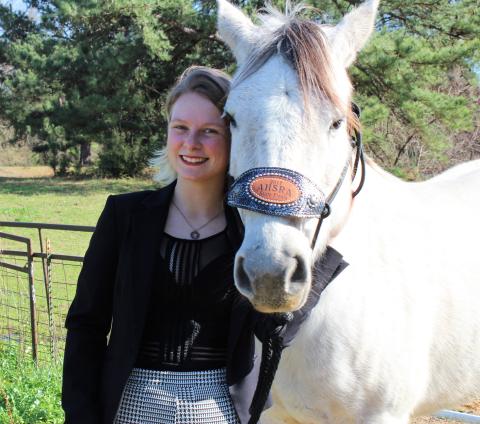 March 22, 2019
Lilly Haack, a sophomore at Northeast Texas Community College, was recently named a 2019 Phi Theta Kappa (PTK) Hites Scholar. This is PTK's most prestigious and largest scholarship, which provides $7,500 for Haack to continue her studies at a university.
Known informally as the "skunk wrangler" on campus, Haack is a biology major who plans to pursue a degree in wildlife and conservation. She currently serves as an Ambassador in the Texas State Parks Program, interned over the summer at the national recognized Wildlife Rescue center in St Louis, and is the founder/president of the Environmental Club on campus. She is also the Vice-President for Communication for the Phi Theta Kappa chapter on campus and a member of the Bio-Chem Club. She recently presented at the World History Association on the topic of wild horses and the management of them.
"Lilly brings so much compassion and concern for all living things to everything she does. An incredibly hard worker, dirt, gore, muck, long-hours - nothing prevents her from helping animals and researching about them. A natural leader, she is constantly innovating ways to help animals, spread awareness to others, and make the world a better place," Dr. Melissa Fulgham, Lead Advisor for NTCC's PTK chapter, said.
Haack is the fourth Hites Scholar produced by NTCC. Brenda Godoy and Chesney Davis both received the honor in 2018 and Cody Russell in 2011.
The Hites Transfer Scholarship is awarded to Phi Theta Kappa members who are preparing to transfer to a bachelor's degree-granting college or university. Winners were selected from among 2,800 applicants nationwide for their outstanding academic achievement and rigor, leadership accomplishments, and engagement in college and community activities.
The Hites Transfer Scholarship Program is made possible by support from the Hites Family Foundation and the Phi Theta Kappa Foundation. This is the largest scholarship Phi Theta Kappa awards to its members.
The Hites Family Foundation was established by Robert Hites, an executive with Ralston-Purina in St. Louis, Missouri. Upon his retirement, he became an instructor at St. Louis Community College. His brother, Ray Hites, served as President of the Hites Family Foundation and as a Trustee for the Phi Theta Kappa Foundation until his death in 2015. Ray's wife, Jackie, now serves as a Foundation Board Trustee.
Phi Theta Kappa is the premier honor society recognizing the academic achievement of community college students to grow as scholars and leaders. The Society is made up of more than 3.5 million members and nearly 1,300 chapters in 10 nations. Learn more at ptk.org.