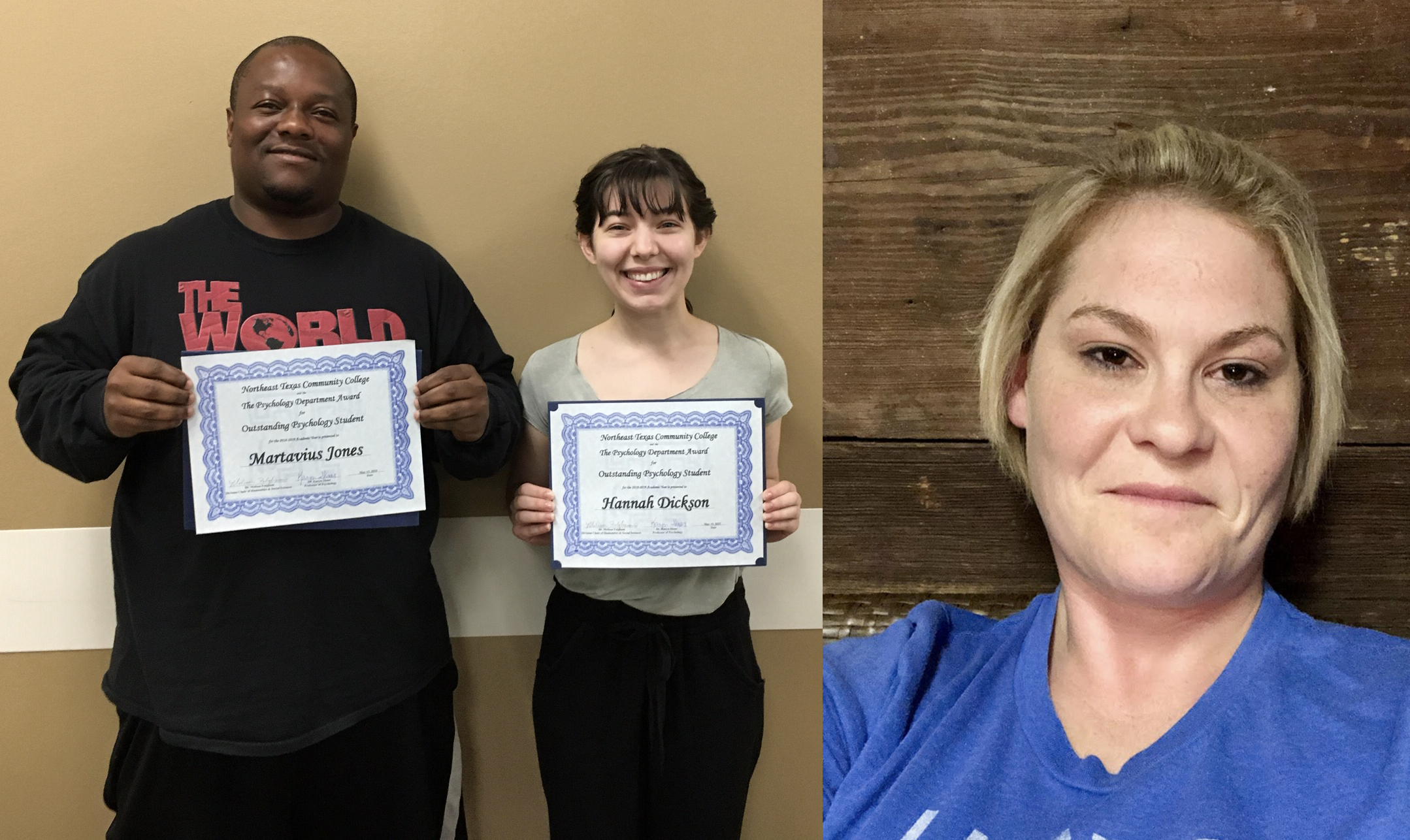 July 5, 2019
The Division of Social Sciences is pleased to announce Hannah Dickson, Martavius Jones, and Britany Lee as Outstanding Students in Psychology for the 2019-2020 academic year.  Students are selected by full-time faculty for outstanding performance in psychology courses offered at NTCC.
Britany had this to say after learning that she'd been named an Outstanding Student in Psychology: "I moved to East Texas in 2006 from the New Orleans area.  I have been here about 13 years now, and I absolutely love it.  I will be going to UT Tyler in the Fall and it is very bittersweet.  I have far exceeded any expectation that I had for myself when I decided to go back to college.  I have worked very hard to get where I am today, and it is an honor to have received this award.  Every course that I have taken has piqued my interest, I have an overall love of learning, but Psychology captured my attention the most.  When I took my first course with Dr. Skaar I was amazed by everything, and she also has a lot to do with my decision.  She recognized me and my hard work and that gave me the push I needed to really give it my all.  Psi Beta was the best experience and I will miss the meetings and the members a lot.  We took a trip to Emporia, Kansas and I was able to take my daughter as well.  We had a great time and learned about some of the amazing things that they are doing for our veterans in regards to therapy.  I think that the best part of the trip was that the ladies on the trip made such a great impact on my daughter, it's something that she will never forget.  Thank you to all of the members of Psi Beta, the instructors that have believed in me, and especially Dr. Skaar, who gave me the push and has kept on pushing for me to live up to my capabilities and achieve my goals."
Britany's favorite quote about psychology is: "The greatest discovery of my generation is that a human being can alter his life by altering his attitudes." -  William James
Hannah's favorite quote about psychology is "You know too much psychology when you can't get mad because you understand everyone's reason for doing everything." 
Hannah is a psychology major from Pittsburg. Her favorite memory from taking psychology at NTCC is the visit to Hospitality House. Introduction to Psychology courses taken at NTCC are unique in that they offer real world and hands-on interaction with people dealing with psychological concerns.  According to Hannah, getting to talk someone who had schizophrenia, and not realizing it during the course of the conversation, helped to destigmatize concepts and beliefs about mental issues. 
Hannah plans to obtain a Ph.D. in Christian Counseling, with a special focus on grief counseling. Her interest in counseling stems from her personal experiences dealing with the death of a sibling many years ago. She will be transferring on to Texas Women's University.  A talented artist as well, Hannah may minor in art as a form of self-therapy as well as helping others.
Martavius'favorite quote about psychology is "Common sense is not really common." He didn't know how true that was until taking psychology classes. One of his most memorable moments from taking psychology at NTCC is discussing the ASCH Conforming Experiment. He tried the experiment, which involves drawing three lines and asking people to pick the shortest, outside of class and was surprised to find that it worked. 
Martavius, a sports fanatic and analyst originally from Greenwood, Mississippi, is most recently from Pittsburg. Martavius said that being a psychology major has been helpful as it helps him understand how people behave, a helpful skill as a married man. He especially appreciates that knowledge as he plans to be a counselor at a middle school. He wants to reach students before they get into High School, seeking to make a positive impact on underserved students and those most in need.
Taking psychology at NTCC allows students to participate in some uniquely immersive educational experiences which can result in learning surprising new things, getting some first-hand experience in the field, and possibly going on field trips.
For more information contact Dr. Karyn Skaar, Professor of Psychology, at mailto:kskaar@ntcc.edu or Division Chair Dr. Melissa Fulgham at mailto:mfulgham@ntcc.edu