August 9, 2019
Five members of Alpha Mu Chi, the Northeast Texas Community College chapter of Phi Theta Kappa (PTK), won PTK Texas Regional scholarships. PTK members who attend two-year colleges in the state of Texas are eligible for the Dr Mary Hood STAR Scholarships, which are given out each summer at the end of the Texas Regional Honors Institute. Thirteen scholarships were given out this year. Alpha Mu Chi set a record as NTCC students took five of the top six scholarship awards given out.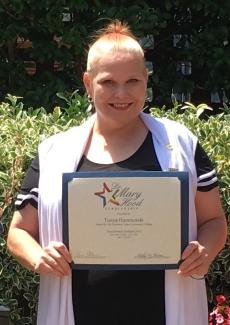 Tonya Hammonds, of Pittsburg, took top honors by winning the $1,000 Dr. Mary Hood STAR Scholarship. A social work major, who has been heavily involved in community service, she serves as the student representative for the Morris County Collaborative. Hammonds serves as a chapter officer for Alpha Mu Chi, NTCC's chapter of Phi Theta Kappa, as well as an involved leader in the Social Work Club, Psi Beta Psychology Honor Society, and More Alike Than Different. She has also written several articles for the college's award-winning school newspaper, The Eagle, and is involved in journalism projects such as The Lagniappe.
"I'm still in shock winning the Dr. Mary Hood Texas STAR Scholarship. This would have never been possible without the support from my PTK family and the amazing faculty at NTCC. Their encouragement and belief in me have given me the courage to excel in my college life," said Hammonds.
Three students (Courtney Baldwin, Jacob Lambie, Jazmin Garcia) won $750 scholarships named in honor of their college's Phi Theta Kappa advisors. Dr. Melissa Fulgham serves as the lead advisor for the chapter. Co-advisors currently include James McGregor, Debbie Strong, and Andrew Yox.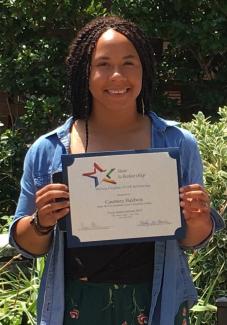 Baldwin, originally of Oakland, California, is a pre-law, history major, Alpha Mu Chi chapter officer, Presidential Honors Scholar, and former recipient of the Dr. Martin Luther King, Jr. award. This past year she also won the Boe Award and Eckmann Award. Baldwin is highly involved in several community activities such as the local chapter of the NAACP, Runaway Girl, and Hope Ministries.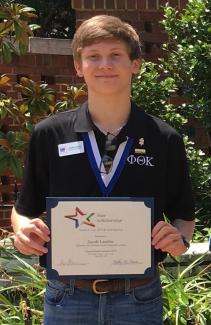 Lambie, of Pittsburg, is a biology major interested in neurobiology and a career in pediatric psychology. He is the District III Vice-President for the Texas Region of Phi Theta Kappa and founder of More Alike Than Different (MATD). A Caldwell Award winner, Lambie has also presented at numerous regional and district workshops. MATD has spread to at least one other college campus, with other colleges expressing an interest in founding their own chapters of an organization that seeks to make all students feel welcome by overcoming stigmas and self-doubts. 
"I am honored to have received this scholarship. It came as a total surprise, but I cannot express how much these scholarships help the students who receive them. Thank you so much to everyone who makes scholarships like these possible," Lambie said.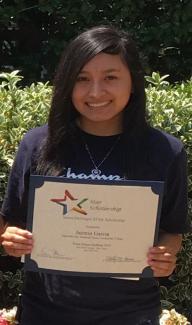 Garcia, of Mount Pleasant, is a biology major seeking to become a Physician's Assistant while also pursuing her research interests in immunology. A chapter officer for the Alpha Mu Chi chapter of Phi Theta Kappa, she is also involved with the Bio-Chem Pre-Professional Club. A Caldwell Award winner who has presented at academic conferences at the local, regional, and national level, Garcia has also had her work published in the peer-reviewed TouchstoneJournal, a journal for undergraduate research published by the Texas State Historical Association.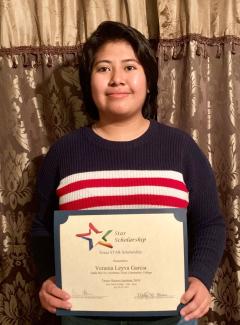 Verania Leyva-Garza, a chemistry major and the 2018 Mount Pleasant High School Salutatorian, won a Texas STAR scholarship in the amount of $500. A NTCC Presidential Honors Scholar, Caldwell Award winner, and Eckmann Award winner, Leyva-Garza has excelled academically, presenting her research at the Great Plains Honors Council and other conferences. Her goals include being accepted to the biochemistry program at the University of Texas at Austin and working towards a Ph.D. in biochemistry. She plans to work in a research lab that deals with the chemical processes in living matter.  
"I really couldn't believe it and was totally surprised. I was in shock for several seconds. Once I got over my surprise, I felt really happy and grateful to have been given this opportunity," Leyva-Garza said.
"This unprecedented record of five wins, where NTCC students took five of the top six scholarships in the state, reflects the hard work of the students who applied but also the unique synergy of a college support system that seeks to help students reach their full potential. NTCC provides amazing opportunities for engagement both inside the classroom and out. The faculty, staff, and administrators provide a supportive and innovative environment that helps empowers students," said Dr. Melissa Fulgham, lead advisor for Alpha Mu Chi. "I'm pleased to see these deserving students recognized and grateful to work with colleagues who help cultivate our students' academic and leadership skills."
PTK is just one of many extracurricular activities available to NTCC students. The college is currently enrolling for the Fall 2019 semester, which begins August 26. To learn more, visit www.ntcc.edu.