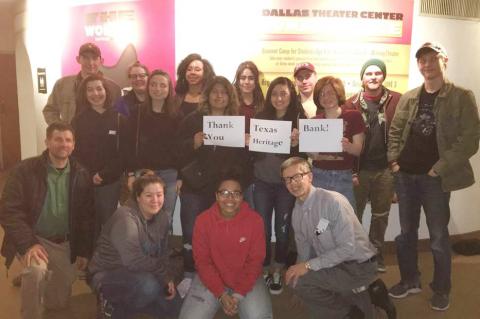 February 8, 2019
By: Dr. Andrew Yox, Honors Director
Thanks to Texas Heritage National Bank, and other friends of Honors Northeast, NTCC's scholars enjoyed their 24th bi-annual honors day trip—this time to Dallas. The students of Honors Northeast received, free of charge, drinks from the Greenville Starbucks, lunch at the North Park Center, entry into the Perot and Nasher museums, dinner at Jorge's in the Arts District, and for the first time, a free ticket to the Kalita Humphreys Theatre, designed by Frank Lloyd Wright, for the Dallas Theatre production of Sweat.
The bi-annual trips began in 2008, and have been financed liberally through the years by Drs. Jim and Paula Archer.
Texas Heritage National Bank traces a lineage back to 1889 when it was called the Bank of Daingerfield. THNB has branches in Daingerfield, Omaha, Ore City, and Sulphur Springs.
The Barbara Conrad Film, one of a series of regional films produced by the students Honors Northeast, premieres tonight, 8 February at 7PM in the Whatley Center for the Performing Arts. The production is free and open to the public. Honors Northeast is accepting applications for the 2019-20 school year. The application deadline is 1 March. Contact Dr. Andrew Yox with questions or comments at mailto:ayox@ntcc.edu.