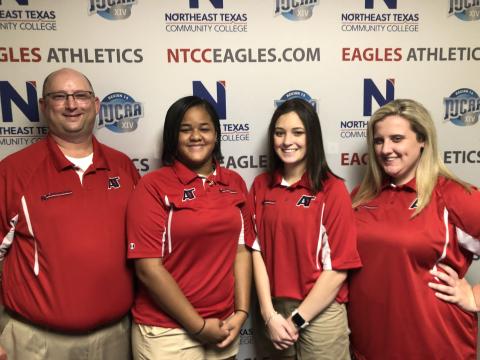 September 4, 2020
The Northeast Texas Community College (NTCC) Athletic Training Department has added two new student athletic trainers to the program. Newcomers Marissa Nolan (Gilmer High School) and Alexis Quezada (Mount Pleasant High School) will join sophomore Erica Austin (Texarkana Pleasant Grove High School) and Head Athletic Trainer Justin Hargrove in caring for the Eagle Athletes this year.
The Athletic Training Department is beginning its fourth year of being a program here at NTCC. Student athletic trainers will get practical hands on experience working with Eagle Athletes in the Athletic Training Room, at practices and games in addition to the educational components in the classrooms. The NTCC Athletic Training Program is designed to help prepare students in the field of Athletic Training by gaining their Associates of Science in Human Performance before transferring to a four-year institution.
Eagle Athletes participate in Baseball, Softball, Women's Soccer, Men's Soccer and Rodeo allowing student athletic trainers to see a variety of injuries from various settings. For more information about NTCC Athletic Training, you can visit us on the web at www.ntcceagles.com or www.ntcc.edu/humanperformance or you can contact Justin Hargrove in the Athletic Training Office at 903-434-8285.