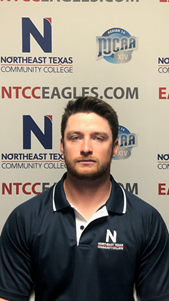 February 7, 2020
By: Justin Hargrove, NTCC Assistant Athletic Director
Northeast Texas Community College (NTCC) is pleased to announce the addition of Connor Anderson to the Eagle Baseball coaching staff. Connor is a graduate of Southwestern Oklahoma State University where he also served as an assistant coach upon his graduation. Coach Anderson comes to NTCC from TCS Post Grad Academy in McKinney, Texas.
Connor begin his collegiate career at Arkansas Baptist College where he played middle infield before transferring to Southwestern Oklahoma State University in Weatherford, Oklahoma. While a member of the Bulldog baseball team he spent time as an infielder as well as playing in the outfield. During his time at TCS Post Grad, Coach Anderson was responsible for working with hitters and infielders, as well as maintaining the equipment and had dorm responsibilities.
Coach Anderson joins Head Coach/Athletic Director Andy Morgan, and Assistant Coach Mitch Huckabay to round out the 2020 Eagle Baseball coaching staff. For up to date schedules and information about NTCC Baseball visit our website, www.ntcceagles.com .