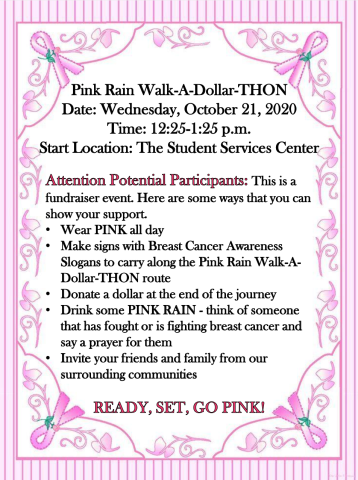 October 15, 2020
Mark Your Calendars And Spread The Word! NTCC will host the Annual Breast Cancer Awareness Week in honor of Breast Cancer Awareness Month. Please view the information listed below and the attachments regarding the Pink Rain Walk-A-Dollar-THON event!
Color the Northeast Texas Community College Campus PINK
Breast Cancer Awareness Week October 19-23, 2020
Hosted by the Cosmetology Club!
Here are some very creative and fun ways that the NTCC family can support Breast Cancer Awareness. Join us in the fight to find a cure. The first step in fighting the battle is showing that you care. SHOW YOU CARE, BE AWARE!
Tie a pink ribbon to your car antenna.
Tie pink ribbons on the branches of a small tree in the campus plaza.
Decorate your office door with pink fall mums.
Paint a pumpkin pink and place them around the campus plaza.
Make cupcakes or cookies, decorate them with pink icing then share them with students and your colleagues.
Participate in a cancer walk or fundraiser.Pink Rain Walk-A-Dollar-THON Date: Wednesday, October 21, 2020 Time: 12:25-1:05 p.m. Start Location: The Student Services Center
Invest in and pass out pink bracelets. Give them to members of the NTCC campus community.
Make encouragement cards to take to our local cancer treatment center. Ask the staff to pass them along to patients receiving chemotherapy.
Volunteer! Check with your local cancer treatment center about volunteer opportunities. Perhaps you can provide transportation for a chemotherapy patient.
Change your profile picture on Facebook or other social networking sites with a pic of pink ribbons in honor of Breast Cancer Awareness Month.
Share links to blogs and articles about breast cancer on your Twitter and Facebook accounts.
Put a streak of pink in your hair. If you don't want to go permanent, many fashion and jewelry stores have hair adornments that would service the purpose and would look like a streak of pink hair. It would probably even get enough attention that a few people might ask you why you have pink in your hair and you could tell them.
Make an appointment with your family physician to find out about getting a mammogram for yourself. Fighting breast cancer and raising awareness about this disease starts with taking care of you and your health.
Ready, Set, Go Pink!