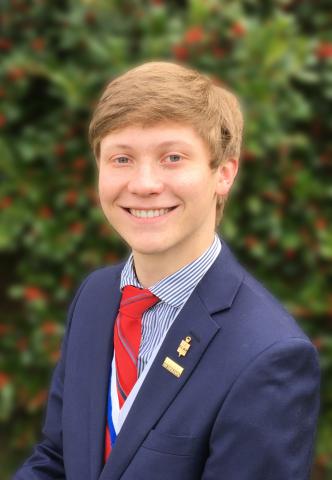 March 13, 2020
Jacob Lambie, sophomore Presidential Scholar at Northeast Texas Community College, has recently been named 2020 Coca-Cola Academic Gold Scholar and Guistwhite Scholar.
Lambie, of Scroggins, is a biology major who is interested in psychology and is passionate about mental health and disability awareness. He is one of the co-founders of the "More Alike than Different" student organization at NTCC. He serves as a chapter officer and is the 2019 Texas Region District III Vice-President for Phi Theta Kappa.
As a Coca-Cola Academic Gold Scholar, he will receive a $1,500 scholarship and a commemorative medallion. The Coca-Cola Scholars Foundation sponsors the Coca-Cola Academic Team program by recognizing 50 Gold, 50 Silver and 50 Bronze Scholars with nearly $200,000 in scholarships annually. Students are nominated for the academic team by their college administrators. Selection is based on academic achievement, leadership, and engagement in college and community service.
Additionally, Lambie will receive the honor of being one of only 15 students nationwide to be named a 2020 Guistwhite Scholar. The $5,000 scholarship for baccalaureate studies and commemorative medallion is awarded based on academic excellence, leadership accomplishments, and engagement in Phi Theta Kappa programs.
"It has been an honor to be the recipient of both of these great awards. From a life two years ago where I thought attending college would be impossible to know it's just…wow…just wow. I encourage everyone to join Phi Theta Kappa and apply because you never know what could happen," Lambie said.
The Guistwhite is the second-highest scholarship offered by Phi Theta Kappa, only previously seen at NTCC seven times. Previous winners include Chesney Davis in 2019, Emmalea Shaw in 2017, Angelica Fuentes in 2016, Keyleah Cumpian in 2015, Noah Griffin in 2014, Matthew Jordan in 2014 and Isaac Griffin in 2012.
Coca-Cola Academic Team members and Guistwhite Scholars will be recognized in both local and statewide ceremonies and will also be recognized internationally during Phi Theta Kappa's first-ever virtual event and annual convention, PTK Catalyst, April 2-4.
"Scholarships like these are integral to the success of these students in reaching their educational and career goals," said Dr. Lynn Tincher-Ladner, President and CEO of Phi Theta Kappa.
Phi Theta Kappa is the premier honor society recognizing the academic achievement of students at associate degree-granting colleges and helping them to grow as scholars and leaders. The Society is made up of more than 3.5 million members and nearly 1,300 chapters in 11 nations, with approximately 240,000 active members in the nation's colleges. Learn more at ptk.org.