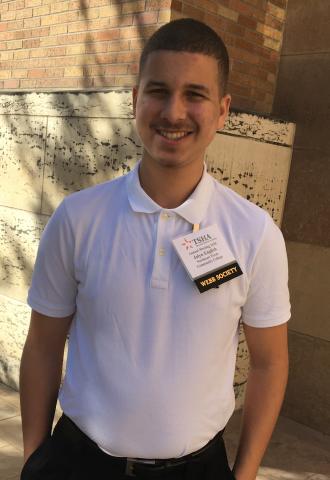 August 28, 2020
By: Dr. Andrew Yox, NTCC Honors Director
Because of his combination of academic excellence, leadership, and public service, Jalyn English has become the premiere winner of the James and Elizabeth Whatley Honors Endowed Scholarship.  This $2,500 scholarship, to be applied to the coming academic year at NTCC, and available for distinguished NTCC Presidential Scholar sophomores in the years to come, is the result of a $50,000 gift given to Honors Northeast, the college's honors program, when it started in 2007.  Elizabeth Whatley (1927-2016) at that time gave a record-breaking 1.7 million dollars, one of the largest known gifts to a rural community college.  She and her husband, James, gave over 2.6 million dollars to NTCC between the years, 1985 and 2016.
The first winner of the Whatley has compiled an enviable record at NTCC.  In addition to a flawless Grade Point Average through four demanding honors courses, and a year at NTCC, English is the winner of the 2020 Chitsey Award for most exceeding expectations in honors, and a Texas STAR award of Phi Theta Kappa last summer.  He was the producer of last year's State-of-Texas, Caldwell-Award-winning film on Adina De Zavala, and is the director of this year's film on Bo Pilgrim. A vice president in Alpha Mu Chi at NTCC, English will appear this fall in the virtual conference sponsored by the National Collegiate Honors Council, a conference dominated by university upperclassmen from around the nation. He has thus far presented the De Zavala film and/or trailer at San Felipe, Texas, Austin, and at the Franklin County Alamo Museum.  His vodcast on the making of the film is found on the honors website, <www.ntcc.edu/honorsposters>, on the page of the 2020 contest.
Honors Director, Dr. Andrew P. Yox notes, "Jalyn English has remarkable talents in the realms of memory and technical acumen, but in addition to that, he is notably reliable, and hard working.  Without his above-and beyond alacrity during last Christmas break for example, we in Honors could not have won our third group Caldwell award last spring." 
Elizabeth Whatley remained a friend of NTCC's honors students right up till the end in 2016.  Honors students visited with her twice, in the fall of 2011 in Longview, and in 2013 at NTCC. Above: Presidential Scholars, Jacob Brantley, and Hannah Kingston, dined with Mrs. Whatley at the Café Barrons in November of 2011.
English was only in kindergarten when Whatley presented her gift to honors. Interest on this original gift has accrued just as English has matured, and assumed something of the spirit of the gift as it was given. 
Jalyn is the son of LaTrisha and Quincy English of Bogata, Texas.