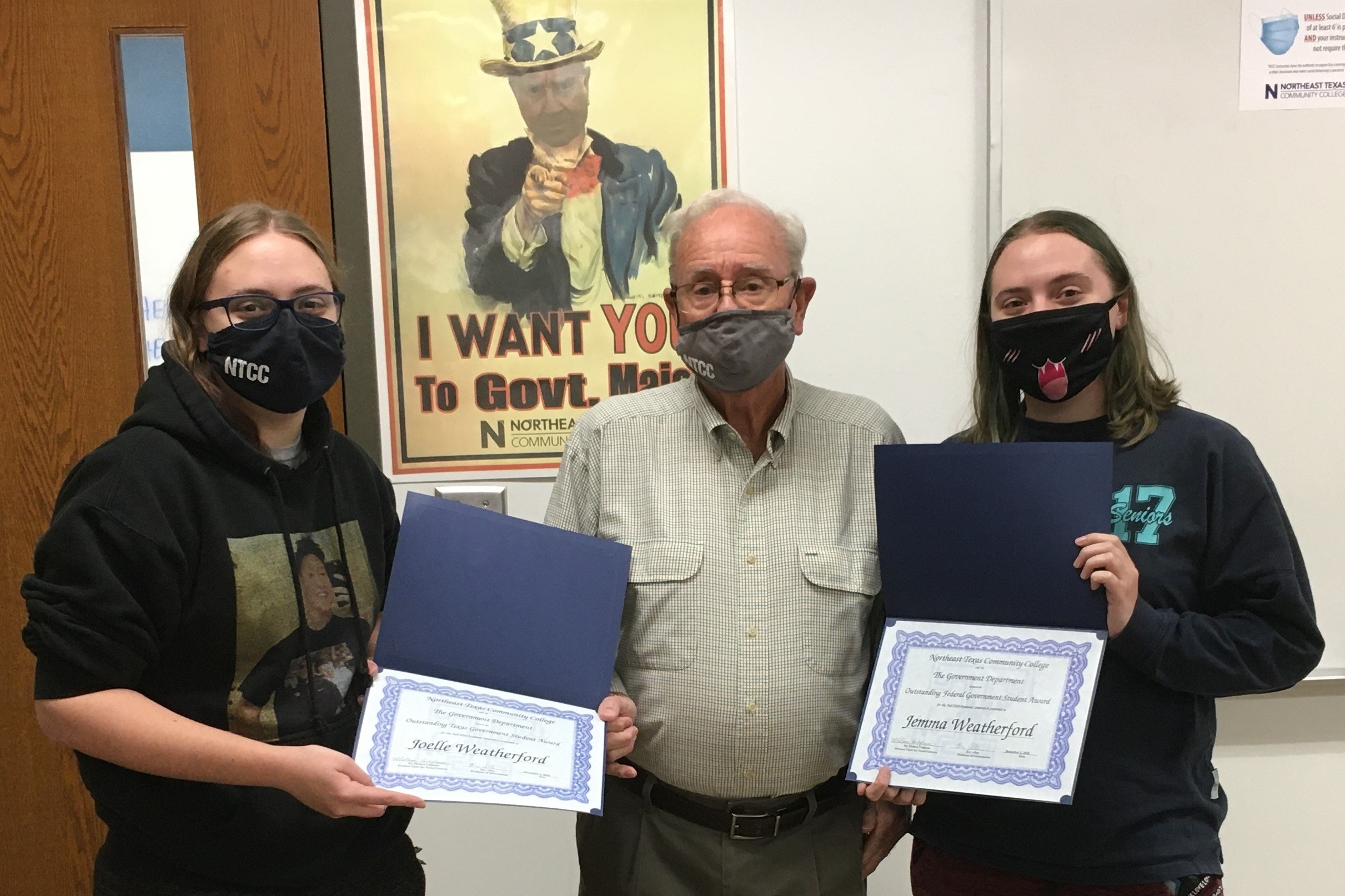 December 3, 2020
Jemma Weatherford (pictured right), of Pittsburg was named the Fall 2020 Outstanding Student in Federal Government. Joelle Weatherford (pictured left), of Pittsburg, was named the Fall 2020 Outstanding Student in Texas Government.
Nominating professor Rex Allen commented that Joelle and Jemma were both excellent students and very interested in government and the political system. They both interacted in this last presidential election by attending a local political organization meeting. Joelle and Jemma participated in class conversation with thoughtful and interesting comments. The current affairs news articles that they shared with class were always very informative and essential for the class.
Joelle commented, "I'm extremely grateful to Mr. Allen for thinking of me as an exceptional student. While I always try to be a good student, I especially try to work hard in Mr. Allen's classes. Most students think that they don't know anything about politics or that they aren't qualified to talk about it, but it's really not that complicated. Most people know what they stand for, they're just afraid to say it."
Jemma noted, "I am excited to receive this award, I always try my best to be an outstanding student in all my classes and I'm glad it is noticed. I want to thank the NTCC Government Department for giving me this award. I also want to thank Mr. Allen for encouraging me to become more involved in the political world that I often ignored in the past."
The Division of Social Sciences & Humanities selects Outstanding Students in each of its disciplines. Only the students who stand out as exceptional in some way receive the distinction. Exceptional students make teaching at NTCC gratifying; faculty members who care make taking classes at NTCC impactful. For more information about government at NTCC, contact Division Chair Dr. Melissa Fulgham at mfulgham@ntcc.edu.