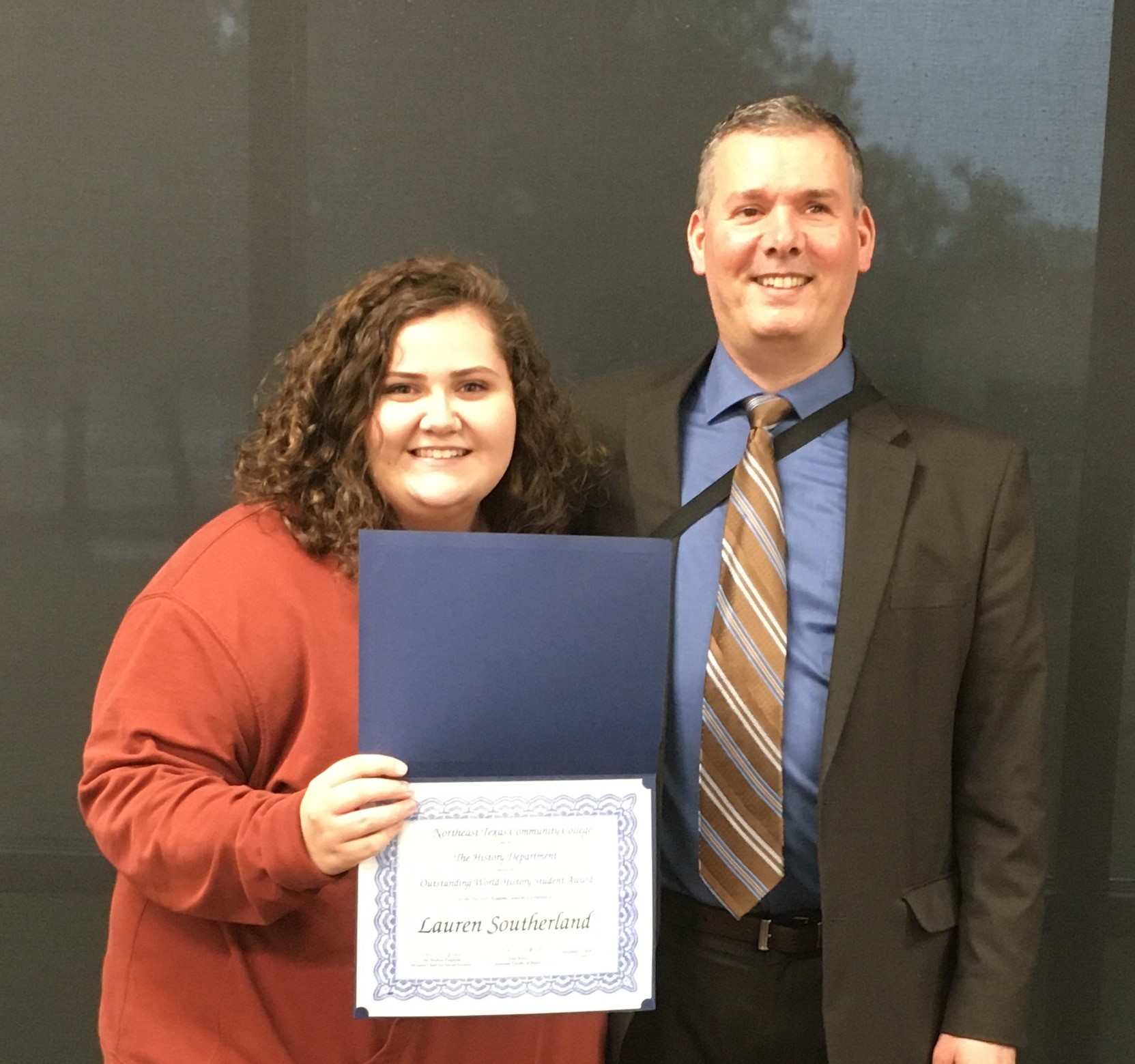 December 3, 2020
Lauren Southerland, of Mount Pleasant, was named the Fall 2020 Outstanding Student in World History.
Nominating professor John Russo (pictured above with Lauren) has been delighted to have Southerland in both his United States and World History courses. She participates actively and thoughtfully in class discussions and has maintained an A average. Russo commented that he has found her determination to do well, despite losing both parents recently and working, admirable. "Considering Lauren's personal trials, one would never know what she's endured, she's such a joyful person and always cheerful and friendly. She's living testimony that a person doesn't have to wear their past on their sleeve. Lauren is a genuine example that our past does not predict our future, because she's moving on, and has the motivation and determination to achieve her goals. I am confident she will be a caring teacher that will touch the hearts and inspire the lives of her students. I am proud of Lauren for shaking off the past and stretching forward to seize the good things life has to offer," said Russo.
Lauren commented, "When Professor Russo informed me that he had nominated me for this award, I was in shock to say the least. World civilization is the second class I have taken with Russo and he teaches history from such a unique perspective. He also met each of us where we were, no matter our circumstances outside of class. He sees the importance of connection and teachers like Russo are the reason I am an education major. I hope to be as caring for my future students as Russo has been for me! Overall, I am very grateful to have received this award and it encourages me to continue my educational journey."
The Division of Social Sciences & Humanities selects Outstanding Students in each of its disciplines. Only the students who stand out as exceptional in some way receive the distinction. Each faculty member can nominate a student who went above and beyond in a semester. Exceptional students make teaching at NTCC gratifying; faculty members who care make taking classes at NTCC impactful. For more information about history at NTCC, contact Division Chair Dr. Melissa Fulgham at mfulgham@ntcc.edu.