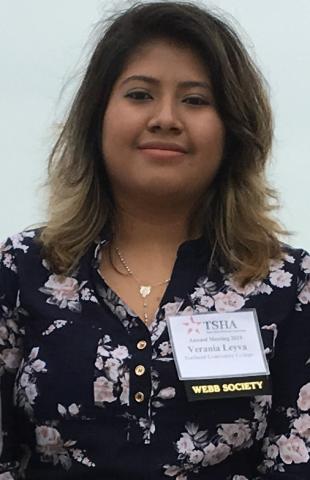 June 26, 2020
By: Dr. Andrew Yox, NTCC Honors Director
2018 Mount Pleasant Salutatorian, Verania Leyva Garcia, has concluded her two-year stay at Northeast Texas Community College with a decision to transfer to the University of Texas at Austin in the fall, and a resolve to advance further in biomedical studies.  She will be receiving a full-tuition scholarship.  In her sophomore year, Leyva was the college's second Dr. Jerry Wesson Scholar for superior academic work in her freshman year, and she will follow the previous Wesson Scholar, Matthew Chambers, to Austin's forty-acre downtown campus.
The two, in fact, were in communication, and in this case, one NTCC alumnus helped smooth the way for an upcoming alumna.  When asked what he thought of Leyva attending UT, Chambers commented: 
I am so elated to hear about my dear friend, Verania, achieving the same dream I, too, once had to attend the cornerstone university in Texas.  I am so proud to welcome her as a new Texas Longhorn. She has always distinguished herself with humility, generosity, and kindness, and with a sharp wit, in droves. I cannot think of a more deserving person to accomplish their goals and I cannot wait to see the heights she will reach in the years to come at UT and beyond.
As a Presidential Scholar in Honors Northeast, Leyva received two Eckman Awards for superior academic work in relation to her peers, a STAR Award of Texas Phi Theta Kappa, and a State of Texas Caldwell Award for her essay on Barbara Conrad.  She presented a poster on this subject at the 2019 meeting of the National Collegiate Honors Council in New Orleans. Her work as a film scholar for the Conrad film helped NTCC to secure its third Caldwell Group Award in its history at Corpus Christi in 2019.  
In addition to these notable accolades, Leyva was a week-by-week academic showcase at NTCC. She was an engaging writer, and conceptualizer with across-the-board talents.  She followed the complex interactions of metabolism, mastered Calculus III, engaged in ligand and light-emission testing, and submitted two award-winning photographs on Northeast Texas scenes. 
Honors and Chemistry Professor Dr. Mary Hearron notes: "Verania was an exceptional student whose ability to critically think, persevere and work independently or as part of a team will serve her well as she continues to pursue her educational goals."
Leyva is the daughter of Crispin and Yadira Leyva of Mount Pleasant.