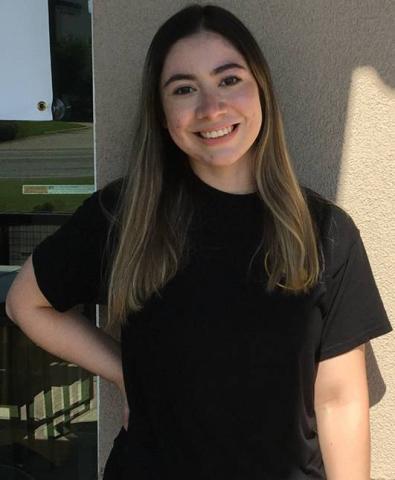 July 31, 2020
By: Dr. Andrew Yox, NTCC Honors Director
What nurses call "Code Blue" rings into the minds of attendants working the "covid floor" of the Titus Regional Medical Center. NTCC honors student, Maritza Quinones, responds, putting on PPE (personal protective equipment) which includes a hair net, a surgical mask, an N-95 mask, a plastic face shield, two pairs of gloves, and foot covers. (Such "equipment" makes one very hot). A Certified Nursing Assistant planning one day to become an OB-GYN, Quinones has been working 40-60 hours a week during the summer at the hospital, and spending almost half that time in the COVID-19 ward.
"I think the most important thing I can do is talk to them, for many are very lonely, and scared" notes Quinones. Thus far this summer she has cared for about 100 COVID-19 patients in disease-embattled Mount Pleasant, taking them physically to showers, checking blood glucose levels, and in a few cases operating a bag valve mask, or even providing chest compressions. Such patients are quarantined from all except for trained medical personnel. It helps that Quinones is fluent in both English and Spanish.
Thus far she feels fine, and has not been sick. She exercises in a gym—with a mask on--after every shift.
Quinones spent the first three years of her life in California before coming to Mount Pleasant. Her parents worked initially at Pilgrim's. She became a member of the National Honor Society, the Student Council, and the Tiger Dolls at Mount Pleasant High School. In her first summer after being accepted at NTCC, she became both a film scholar, and the lead actress for the Honors Northeast production of Adina De Zavala and the Making of a Patriotic Supersite. Her essay went on to place 3rd in the State of Texas Caldwell Awards for freshmen and sophomores, and the film she starred in won the group Caldwell Award on the state level, for the best project in Texas history of any college or university group. This was the first time that NTCC has ever had an award-winning film scholar star in an award-winning film she had researched.
"The binary light of known as 'Sirius' appears as a brilliant star in the night sky. When I think of Quinones, and consider the confluence of her acting, academics, and now just plain courage working as a nurse, I think, wow, what a wonderful point of reference, of youthful achievement during these troubled times," Dr. Andrew Yox, Honors Director, said.
Quinones recently also won a STAR Award of the Texas Phi Theta Kappa. She will be returning to NTCC as a sophomore this fall. She is the daughter of Lorena and Juan Quinones of Mount Pleasant.