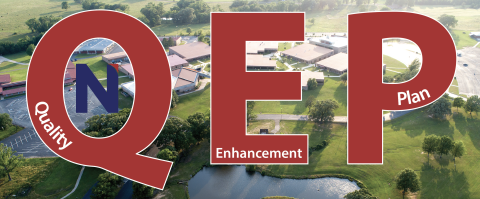 October 9, 2020
What is a QEP?
The Quality Enhancement Plan (QEP) is an integral component of the reaffirmation of accreditation process and is derived from an institution's ongoing comprehensive planning and evaluation processes. It reflects and affirms a commitment to enhance overall institutional quality and effectiveness by focusing on an issue the institution considers important to improving student learning outcomes and/or student success that is consistent with our mission and strategic plan.
QEP Planning/Development Steering Committee:

Committee Chair(s):
Betsy Gooding, Registrar (Student Services Representative)
Jill Dietze, Instructor of Speech (Instructional Representative)
Members:
Gaylon Barrett, Director & Professor of Medical Lab Tech
Katherine Belew, Advising Team Lead
Charla Hunt, Administrative Assistant to Business Technology
Dr. Matthew Lampert, Associate Professor of Philosophy
Dr. Drew Murphy, Professor of Chemistry
Carrie Overstreet, Instructor of Vocational Nursing
Eric Posey, Assistant Controller
Shala Ridens, Financial Aid Coordinator

Ex-Officio (non-voting):
Toni LaBeff, NTCC SACSCOC Liaison, Dir. of Inst. Effect.

Institutional Resources:
Toni LaBeff, NTCC SACSCOC Liaison, Dir. of Inst. Effect.
Dr. Kevin Rose, Vice President for Instruction
Anna Ingram, Associate Vice President of Arts and Sciences

The steering committee will be responsible for setting the direction and leading the development of the Quality Enhancement Plan, but will not be in charge of the implementation phase of the topic. The implementation of the QEP will be the responsibility of a secondary group.
Be on the lookout for a survey coming soon that will begin our broad based search for an overall theme for our QEP topic. Once a theme is decided, a call for QEP topic proposals will be initiated.